Regardless of the form you're using, you can pass Gatsby insights to Klaviyo following the steps below:
Step 1. Copy / Paste your Klaviyo API key
Log into Klaviyo

Create a Klaviyo List named Gatsby if you haven't already

At the top of the page, click on your store name dropdown, navigate to Account >> Settings >> API Keys

Click the blue button for "Create API Key"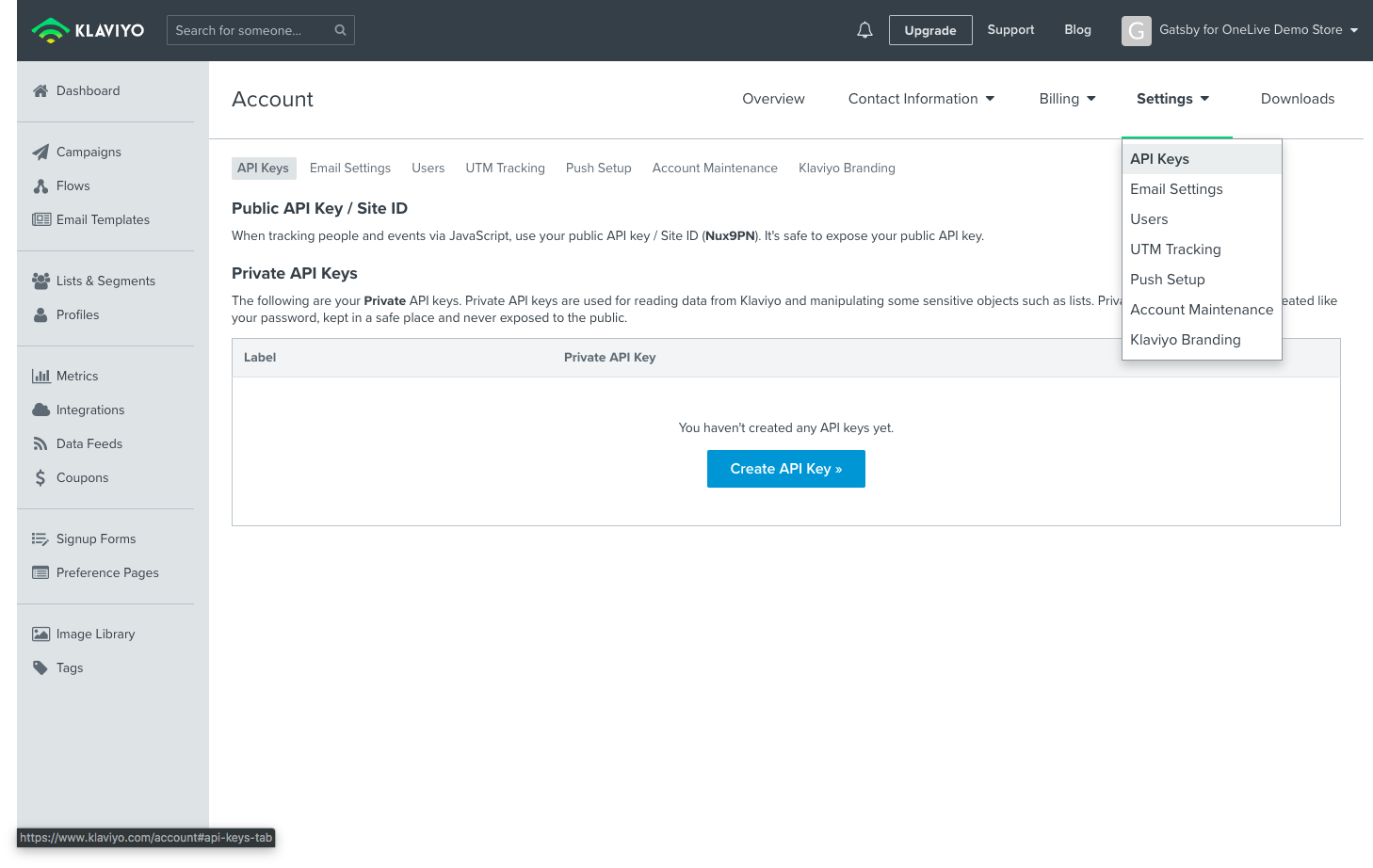 Write "Gatsby" for the label, and copy the Private API key into your mouse: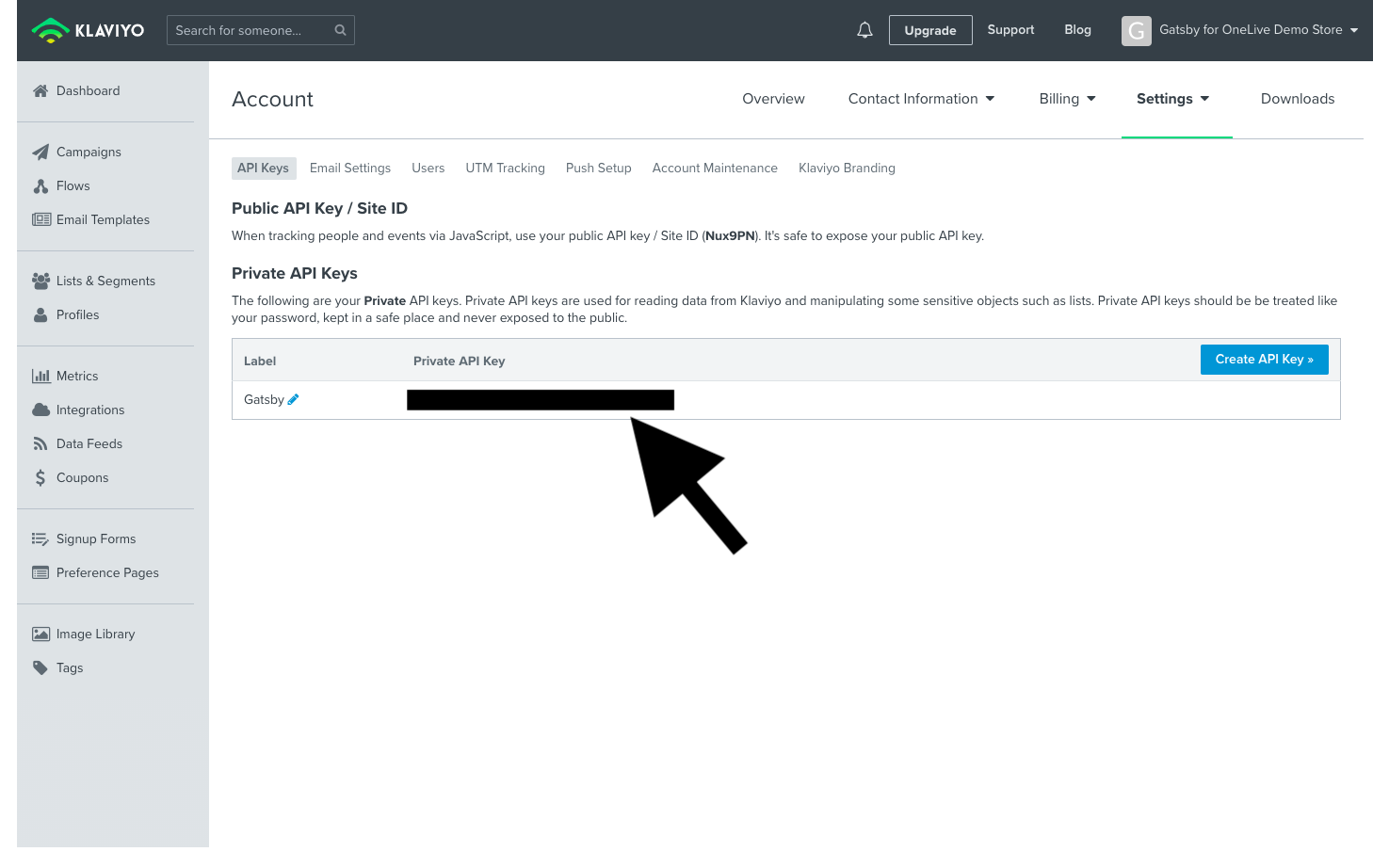 Step 2: Paste API key in Gatsby
We're now going to paste your Klaviyo API key in your Gatsby account to finish the integration.
After that, your Gatsby insights will flow back into their appropriate customer profiles in your Klaviyo account.
Log into your Gatsby account
If you installed us via our Shopify App:
Open your Gatsby account by clicking the "Continue To Your Dashboard" button back in your Shopify Apps page for Gatsby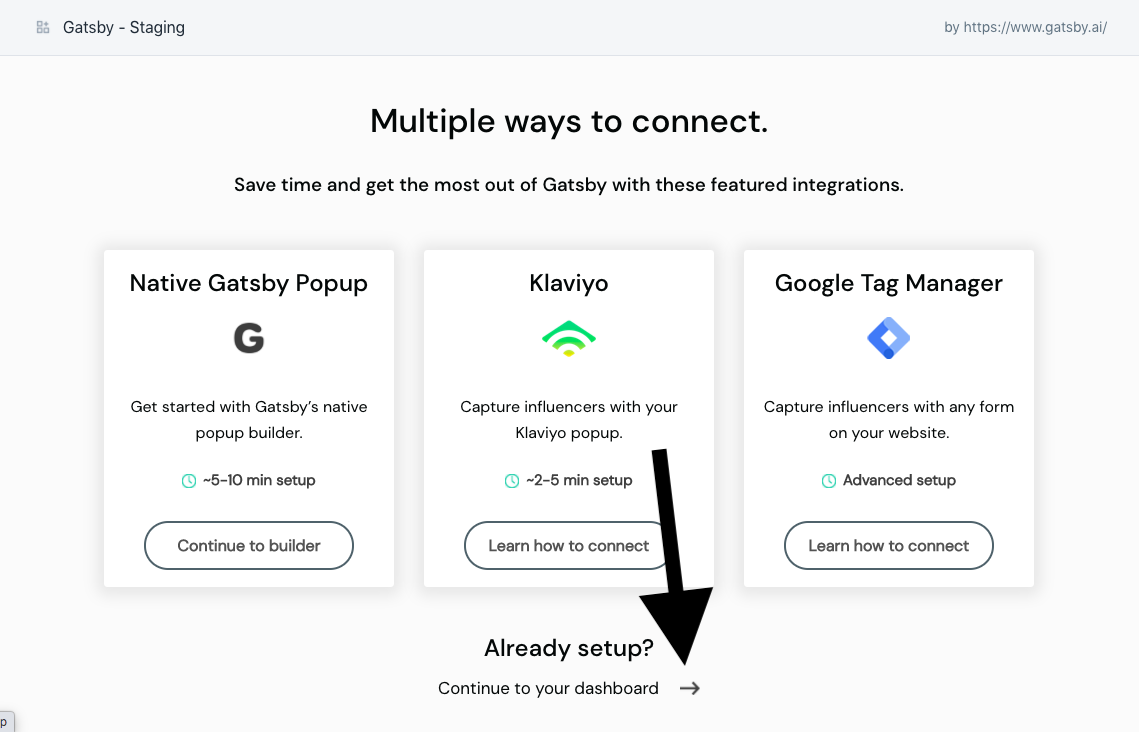 If you created a Gatsby account any other way, please login here: https://gatsby.run/login
Once in your Gatsby account:
Click the Integrations tab in the Gatsby header

Scroll down to Klaviyo and click "Connect"

Scroll down again now, a box for Klaviyo Details will appear

Paste your private Klaviyo API Key from your mouse and press "Integrate"

(You may need to click in the white space -- a small bug we're fixing)

A second field will then appear - select the Gatsby list you created earlier

(or a default list if you prefer. For better organizing in Klaviyo we recommend using a specific list called "Gatsby" for example so that everyone with these social insights are in the same Klaviyo list to trigger flows from. Being in a Gatsby list will not prevent them from being in other Klaviyo lists as well).

Press "Integrate" a second and final time

Step 3: Update Campaign
Press the "Launch Campaign" button (or it might say "Update Campaign" button if you've already launched before). This button is available in the Gatsby header. Press this button every time you make changes, to ensure all saved changes publish live.

Step 4: Do a full test to populate all the fields in Klaviyo
Test #1: Profile Properties
Please test everything was set up correctly by submitting an email address & a real Instagram handle that you have access to into your connected Signup Form.
If the test was successful you will see the following new profile properties in the Klaviyo user profile: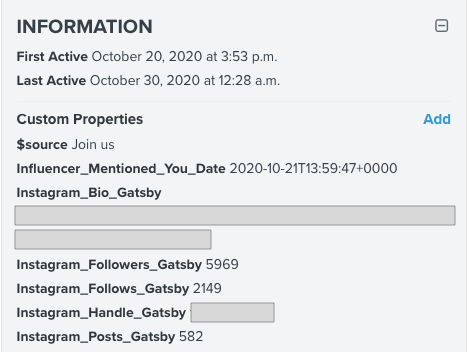 Test #2: Create an Instagram "Mentioned You" event
Please log into the Instagram account that you used in Test #1 above and now mention your brand in an Instagram post. You can tag your brand or mention in a caption or comment using the @ sign. You can do this for a new post or a recently published post. Within 15 minutes you should see "Influencer_Mentioned_You_Date" on that user's Klaviyo profile and the ability to select Mentioned You as a new Klaviyo Flow trigger.
You've now completely connected Gatsby & Klaviyo 🎉
What's next? Create your Klaviyo Segments & Flows for your influential customers
Did this answer your question?