Events passed to Klaviyo:
Mentioned_You which means an Instagram Mention Event
Mentioned_You_TikTok_Gatsby means a TikTok Mention Event
Orders_Tracked_Gatsby means Influencer's coupon code referred an order (the properties of this event include the sale $amount)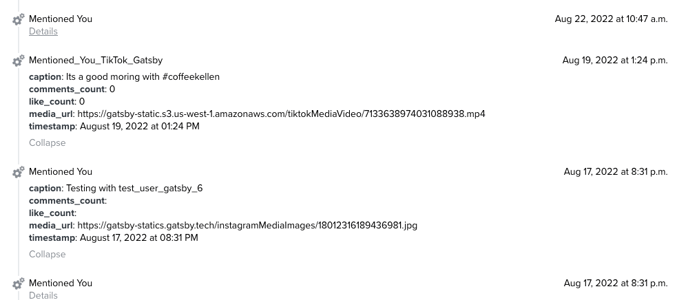 Custom Properties passed to Klaviyo:
Coupon Name_Code_Gatsby which is the customer's coupon code you've assigned to them. ie:

Custom_Tags_Gatsby which includes any "Tags" you've applied to that profile in Gatsby
Influencer_Mentioned_You_Date which is updated to show that last date of an Instagram or TikTok mention event
Instagram_Bio_Gatsby
Instagram_Firstname_Gatsby
Instagram_Followers_Gatsby this is the big one, their number of Instagram followers
Instagram_Follows_Gatsby this is the number of people they follow on IG
Instagram_Handle_Gatsby
Instagram_Lastname_Gatsby
Instagram_Posts_Gatsby
Instagram_Profile_Image_Gatsby which is a link to their profile image
Instagram_Verified_Gatsby which is a true/false value. True if they have sent you an Instagram DM
Orders_Tracked_Gatsby updated to show the number of Orders they have driven via their code(s)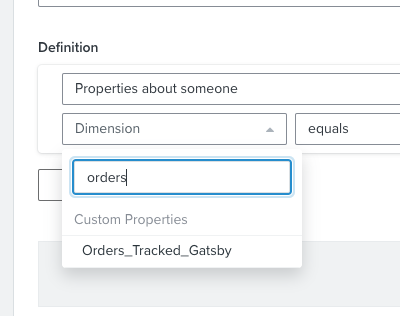 Sales_Tracked_Gatsby updated to show the amount of revenue they have driven via their code(s)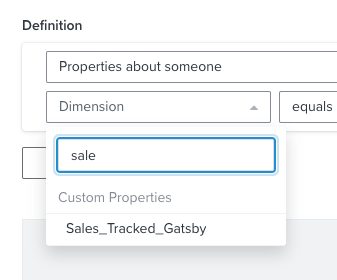 Segments_Gatsby which includes any segments they're in in Gatsby so you can easily build a Klaviyo segment that mirrors it in real-time

Tiktok_Bio_Gatsby
Tiktok_Followers_Gatsby
Tiktok_Follows_Gatsby
Tiktok_Handle_Gatsby
Tiktok_profile_image_Gatsby
The same attributes and events sync with Attentive, Omnisend and Sailthru.
The same events sync to LoyaltyLion and Stamped and Gorgias and more. But not the attributes.