Klaviyo Flows for Instagram and TikTok Engagement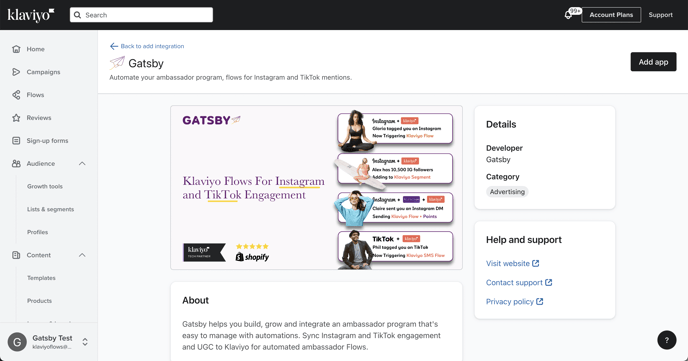 Klaviyo users can now connect Gatsby directly from the Klaviyo Integrations Directory!
3 Quick Tips Before You Get Started:
1. If you don't know your Gatsby login password, since you always log in via the Shopify App, be sure to be logged into Gatsby before connecting from Klaviyo
2. It is recommended that you create a list in Klaviyo before you initiate the connection, so that you can select a specific list to sync with. See below.
3. If you connected Gatsby & Klaviyo before Sept 26th, 2023, disconnect the integration first from Gatsby (steps below), and then reconnect for the new version.
---
Step 1: Create a List in Klaviyo named 'Gatsby - All Profiles'

---
Step 2: Connect
If you're already logged into Gatsby and Klaviyo, just click here 📍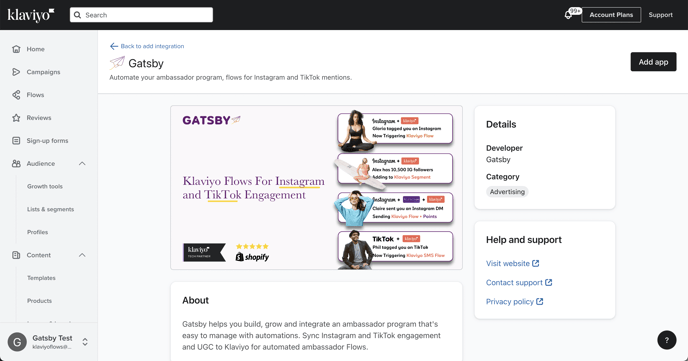 See the full oAuth integration experience in this 1 minute video:
Step 2: Alternative Options
Alternatively, navigate to the listing directly via these steps:
Log into Klaviyo >> click bottom left >> Integrations >>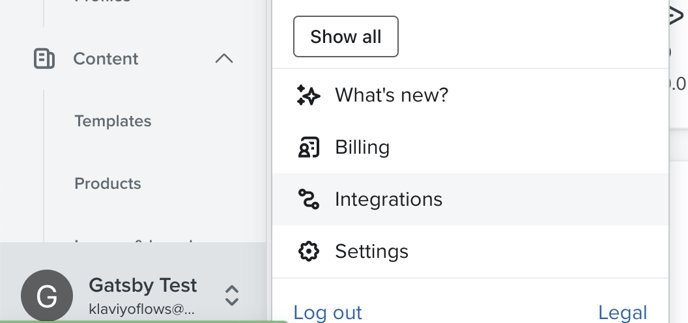 Click "Add Integration" >> Search "gatsby"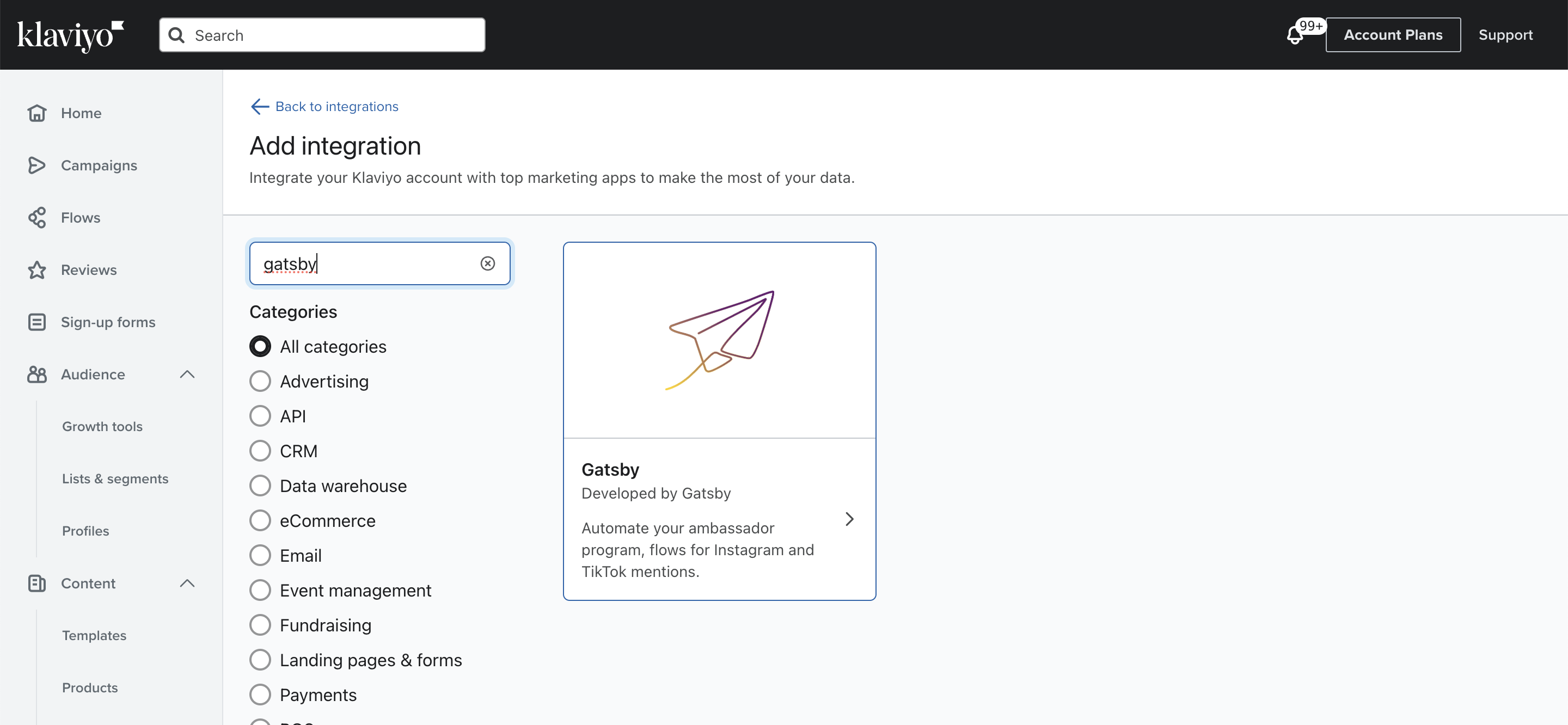 Then when the App Listing loads, simply select "Add App"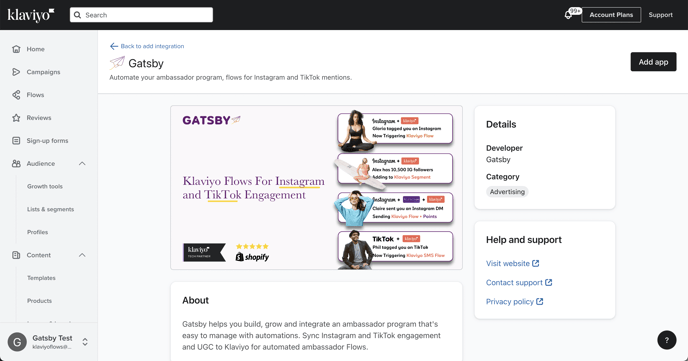 You can also connect to Klaviyo from Gatsby's Integrations page as well:

---
How to upgrade the legacy Klaviyo integration to the new oAuth:
If you connected Gatsby & Klaviyo before Sept 26th, 2023, you'll need to disconnect the integration first from Gatsby, and then reconnect for the new version.
Note: There is no new functionality in the new integration version yet, however since the new version uses oAuth there will eventually be new functionality that is only supported by the new oAuth integration, like native Klaviyo flows, so it's great to upgrade now.
1. Open your Gatsby account
Note: You can login to Gatsby either by opening the Shopify app or entering a password at gatsby.run/login. If you've never set a password before, you can set one by entering your email at gatsby.run/forgot. Contact us if you have any questions or need to change the email associated with your account.
2. Top right menu >> 'Integrations' >> Find Klaviyo and click "Disconnect"

3. Then click Connect and run through the new oAuth integration flow:

---
Step 4: Test the integration
1. Once the integration is complete, please import a subscriber to your Gatsby account and confirm that their social properties and mention events sync to Klaviyo.
Caution: Profiles must include an email address in order to sync to Klaviyo. You have a few easy ways to add an email to a profile.
Import a test profile (guide)
If you already have a form connected to your Gatsby account, submit the form
Note: See a full list of what data will sync to Klaviyo here
---
Here's what else you can do with Gatsby + Klaviyo:
Segment customers using Instagram and TikTok insights
Send Email & SMS Flows to your community
---
That's it! If you have any questions, please don't hesitate to open a support ticket with us and we'll get back to you as quickly as possible. Thanks!