Collect Instagram and TikTok handles in your Attentive forms and trigger Journey's with your profile insights and mention events that sync back to Attentive in real-time
To start please watch this 5 minute video that walks through the steps:
Step 1: Ask your Attentive CSM to create Two Signup Units:
1st Signup Unit: Integration Affiliate Endpoint
Ask your Attentive CSM to create a Signup Unit for Integration Affiliate Endpoint:

This is what you're going to use to sync insights from Gatsby back to Attentive. This allows you to pass subscribers from Gatsby into Attentive, even subscribers who opt in via forms other than your Attentive form.
2nd Signup Unit (optional): Form to collect Instagram and/or TikTok handles
Your Attentive Rep will handle creating the custom fields for Instagram and TikTok for you.
Simply ask them to add those fields for you. The field names need to be exactly:
Email
Instagram_Handle_Gatsby
Tiktok_Handle_Gatsby

Note: An "Email" field is required to sync with Gatsby, along with at least one field for Social Handle, either TikTok and/or Instagram.
The form can be either a popup or an embedded form.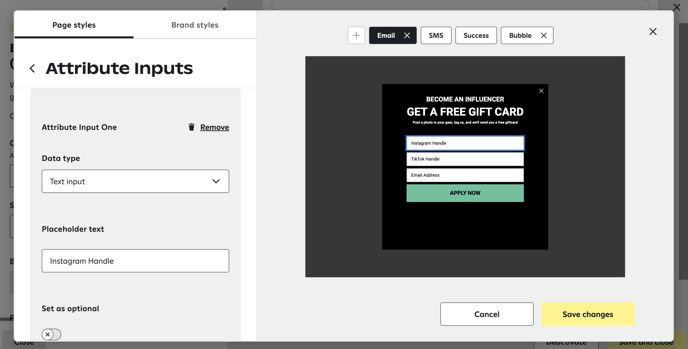 Step 2: Integrate Gatsby and Attentive
Once your 1st Signup Unit for the "Integration Affiliate Endpoint" is created in Attentive, open up Gatsby.
In Gatsby, click on the Integrations tab >> scroll down to Attentive >> click Connect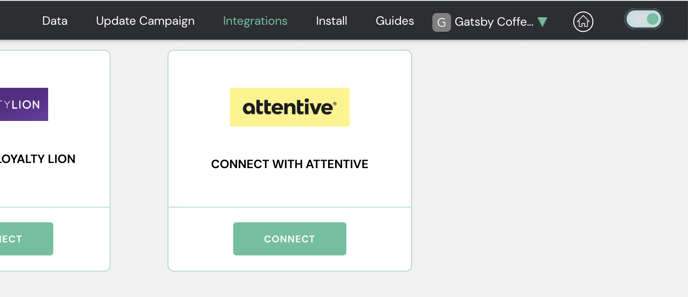 A box will appear to enter the following details:

The Signup Source ID is from the Integration Affiliate Endpoint unit.
(for example it was 299355 in my test account)

Once that ID is copied into Gatsby, click Integrate and you'll be launched into an oAuth window, click "Authorize":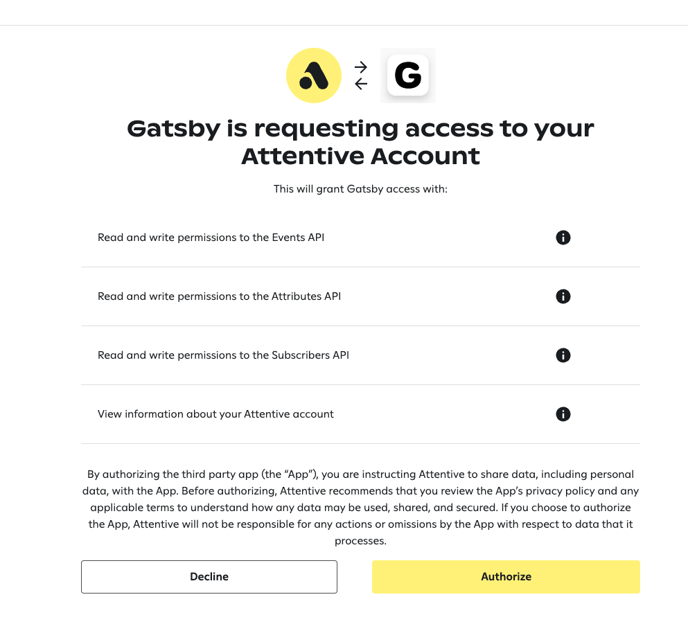 And then you're done, you'll be taken back to Gatsby and see a blue success message: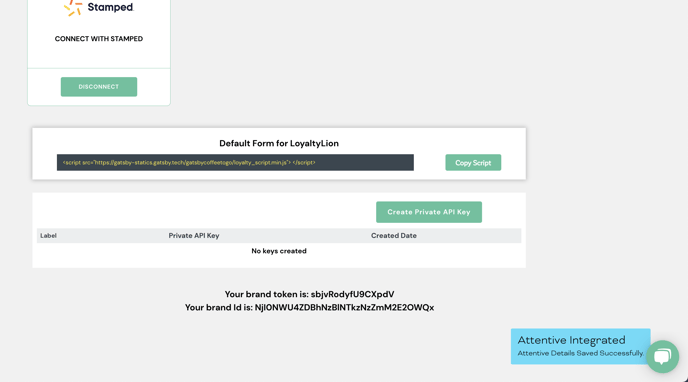 You're done!
Now, new subscribers that come through your Attentive form will flow to Gatsby, and Gatsby will sync their social insights and media tracking back to their profiles in Attentive.
Gatsby will also update social insights for existing subscribers in your Attentive account who later give you their social handle.
In addition, new profiles that come into your Gatsby account from any other form will sync to your Attentive account as well. You will not have their phone numbers in this case, as that would require them going through your Attentive form, but their email address and social insights will sync to Attentive, create new email subscribers in Attentive for you. If you have email features enabled in Attentive you can leverage this data for Email Journeys in Attentive or if you collect phone numbers later, they will be attached to these existing subscriber records.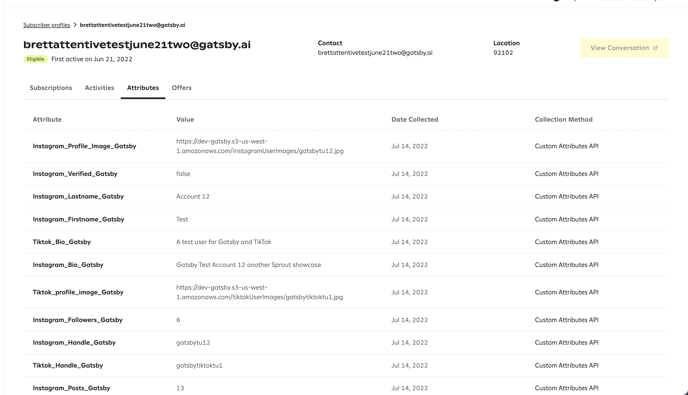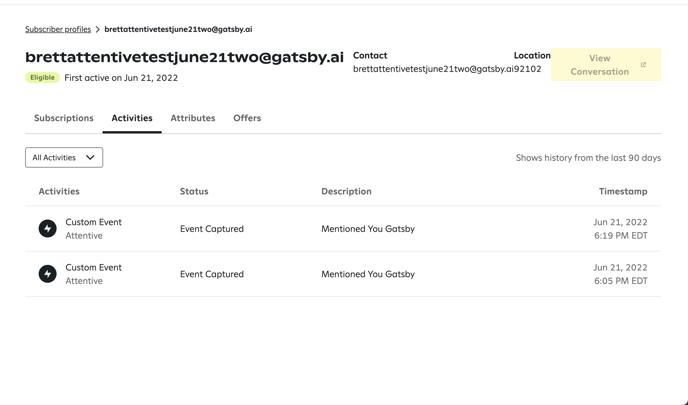 And you'll be able to create segments based upon the customers' Follower Size: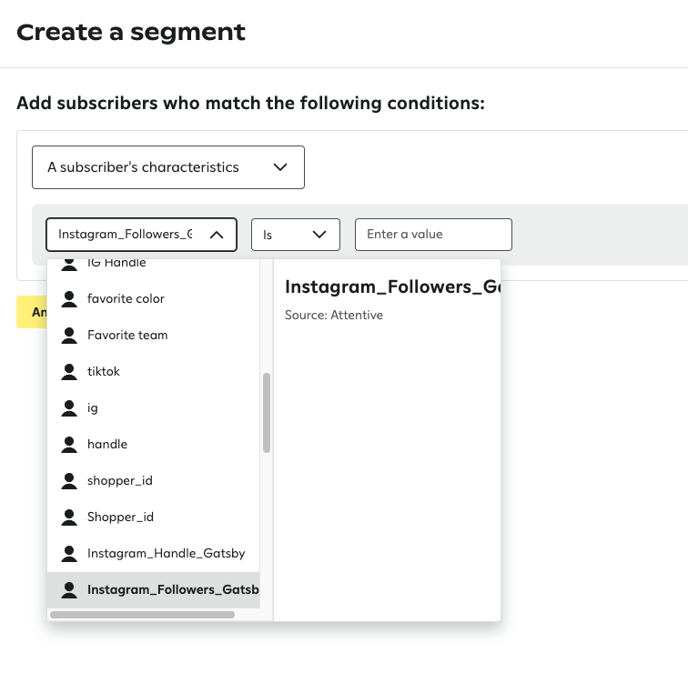 And trigger SMS based on Instagram and TikTok Mention Events:

Instagram Mention Trigger: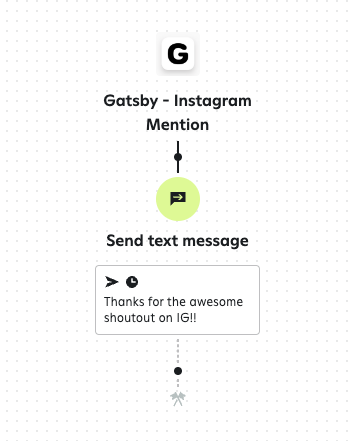 TikTok Mention Trigger: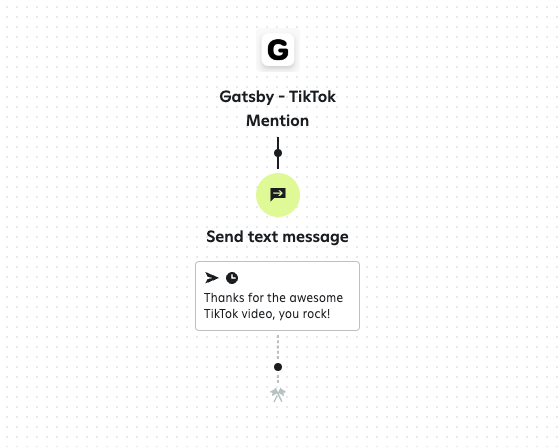 Please let us know if you have any questions!