Details on receiving the cloned Flow templates and how to best utilize them.
To make it easier and quicker to launch your automated Klaviyo Flows for Gatsby, we can go ahead and clone over some Flow templates to get you started.
Here's a video walking through the Flow Templates:
Step by step instructions:
Step 1: Invite klaviyoflows@gatsby.ai to your Klaviyo account.
Set the Role as Manager.

Step 2: Make sure you've already integrated Gatsby with Klaviyo and successfully completed a test. The test should include:
Add an email/handle to your Gatsby account and confirm the Instagram properties sync to the record in Klaviyo

@Tag your brand in an Instagram Story, using the handle you added above. Confirm the mention is logged in your Gatsby account under Media and the Mentioned You Event fires in Klaviyo

Step 3: Create a Segment & Coupon Code Set in Gatsby
Create a segment in Gatsby for everyone with Email Connected = True and Followers > 0.

And then create & assign coupon codes to everyone in this segment automatically. These codes you generate will be multi-use codes that your influencers will share with their followers.
To do this, open the Segment you just created, and click the "Create Shopify Coupons" button on the right side.

(If you don't see this coupon code button it means you either are not in a Segment or your Gatsby account is not connected to Shopify, and please chat us for Support).
Once you click this button, it will open a pane to create a set of coupon codes. Once you set the Coupon Code parameters, Gatsby will automatically generate a unique coupon code for every person in your segment automatically. This includes every current member of the segment and every future member who joins this segment later.
Don't worry, these influencers won't receive these codes right away, they will be distributed to them through the Klaviyo Flows we create in the following steps.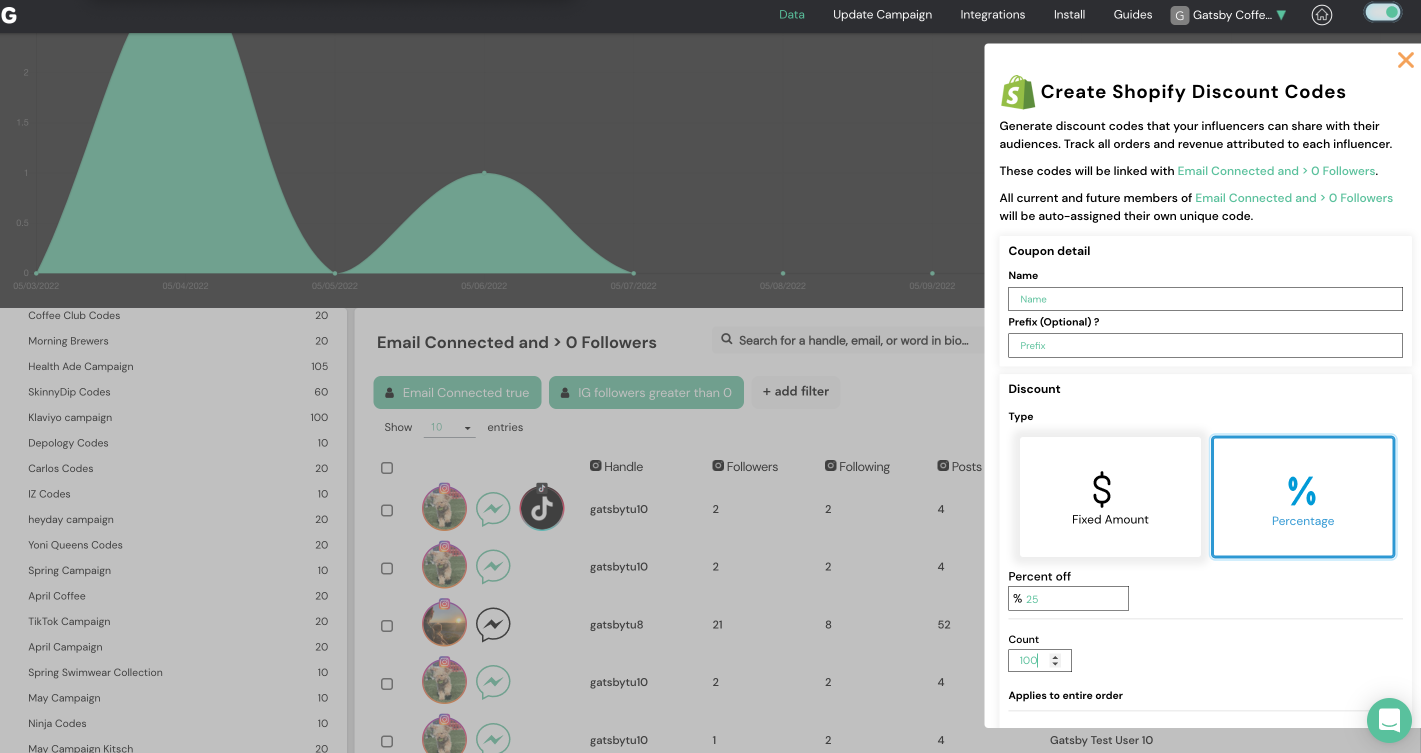 For help making these code, please review this blog post or watch the following short video:
Once this Step 3 is complete you should see new profile properties in a Klaviyo record for Segment and Coupon Code, something like this: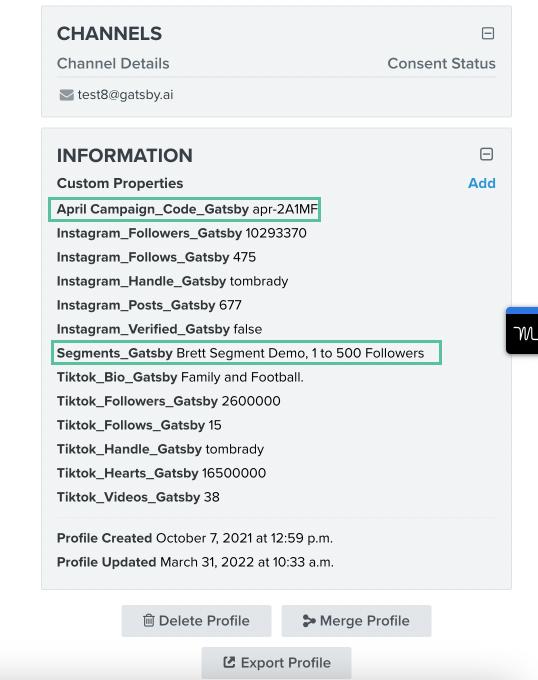 Step 4: Create a new Segment in Klaviyo with the following properties:
Properties About Someone >> Instagram_Followers_Gatsby is greater than 0
&
Properties About Someone >> [Coupon You Made]_Code_Gatsby is set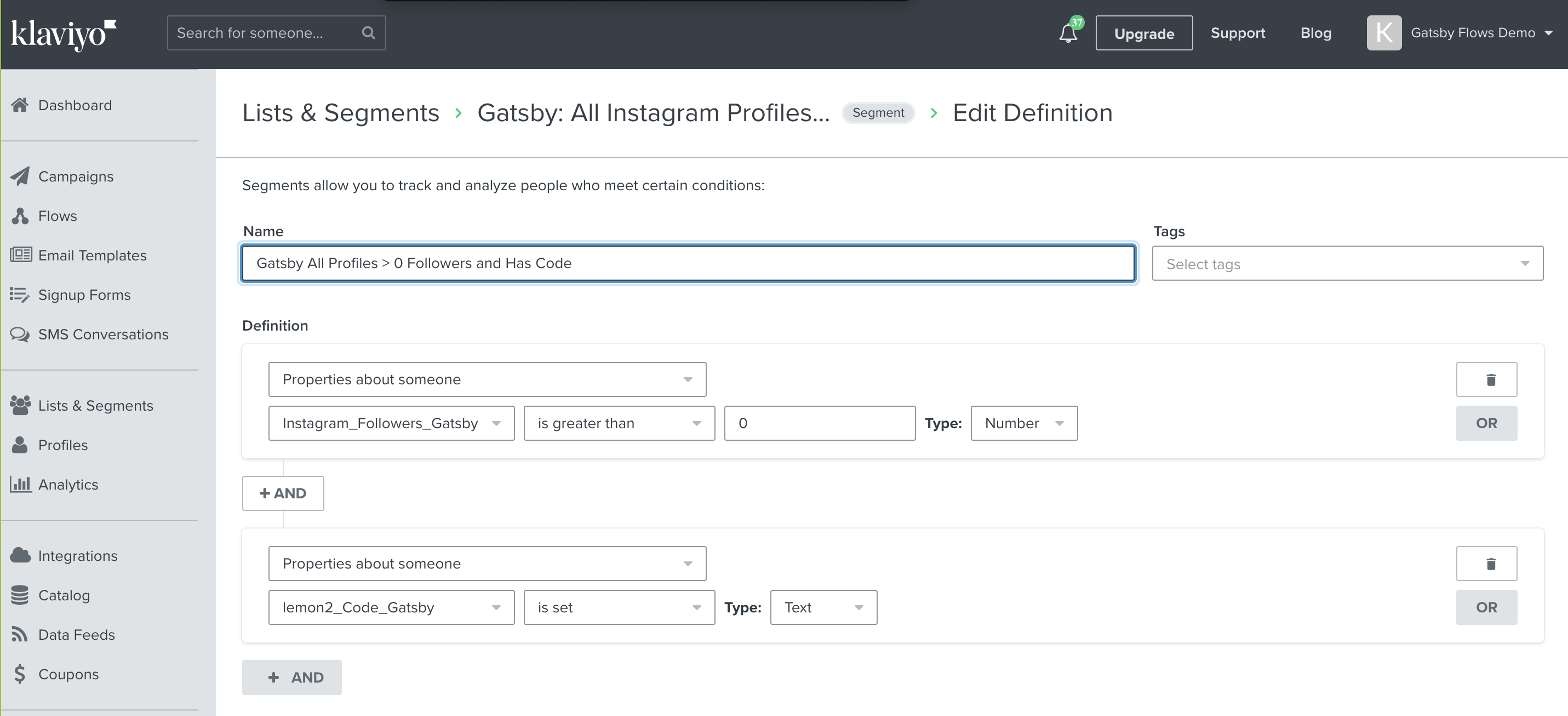 Note: lemon2_Code_Gatsby above is just an example, lemon2 will be replaced with whatever you called your coupon code set in Gatsby.
Step 5: Create Two Reward Codes in Klaviyo, as follows:
Coupon Code #1 - made in Klaviyo. This is a single use gift code that your influencers will receive immediately after they apply to your program. It is designed to get them to buy some fresh product that they can post about. We recommend 25% - 100% off depending on your situation.

Coupon Code #2 - made in Klaviyo. This is a single use gift code that your influencers will receive after they mention you on Instagram. For this we recommend a dollar amount so it feels more like a reward.
For help on creating Coupon Codes in Klaviyo, refer to this guide
** Once you confirm that these 5 steps above are complete, send us an email or chat and we'll clone over the flow templates to your account **
Our current Flow Templates include:

Influencer Outreach Flow: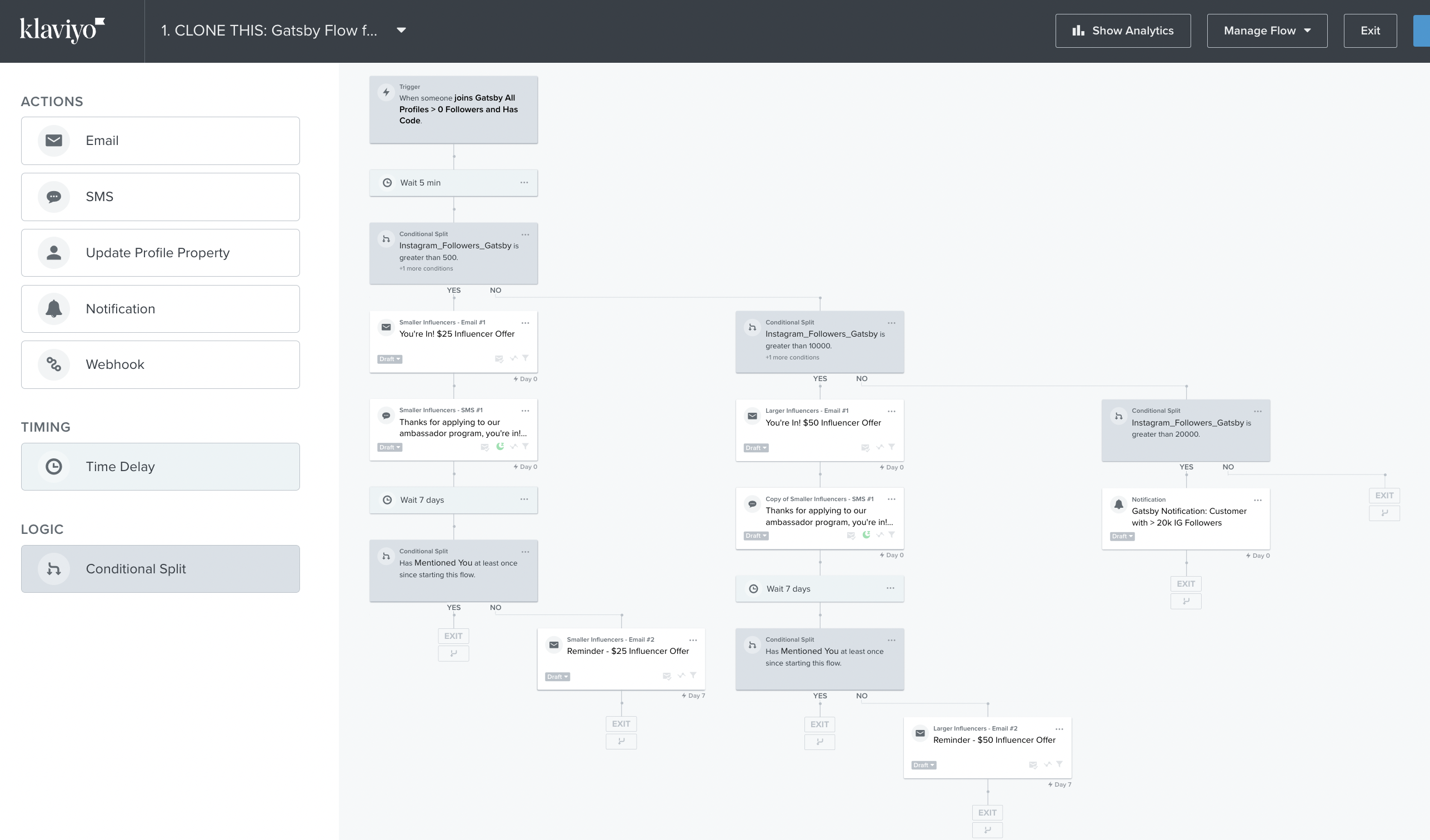 Influencer 1st Mention Flow: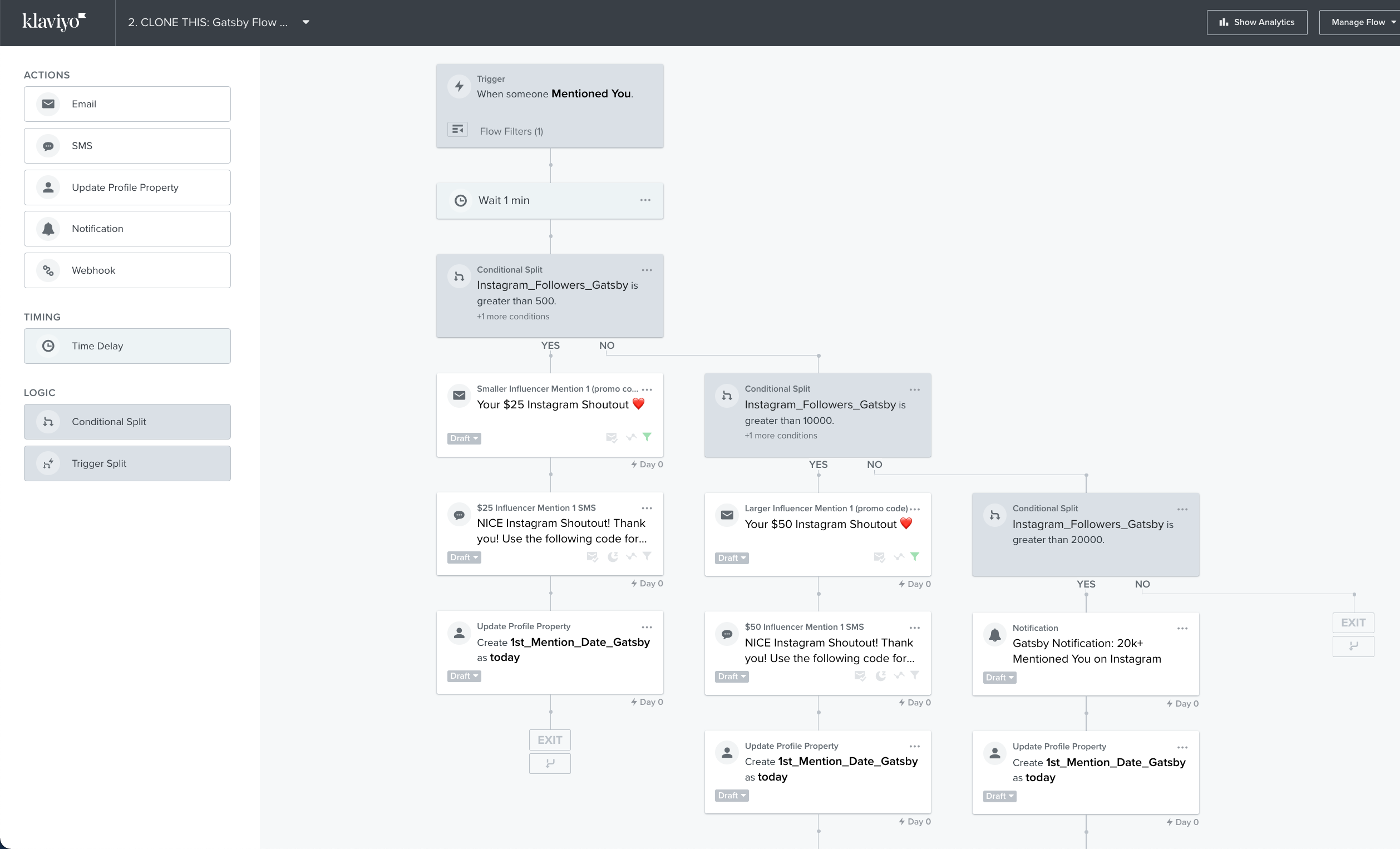 Influencer Ongoing Mentions Flow: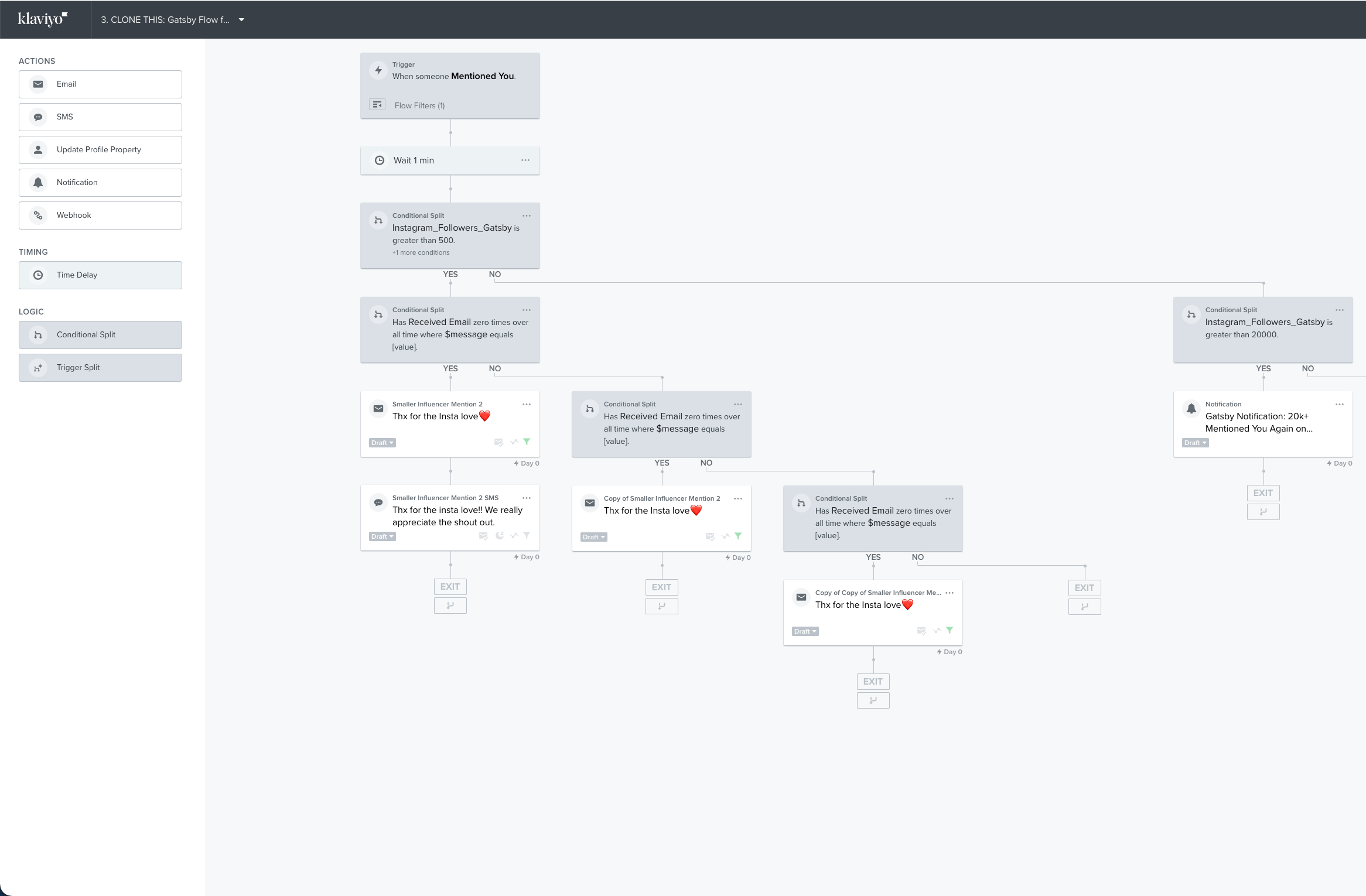 We'll provide you with these templates and then schedule a call with you to make sure you get them up and running with ease.
Thanks, please let us know any questions!