To jump right to Coupon Codes, head to Step 3 and 4
To make it easier and quicker to launch your automated Klaviyo Flows for Gatsby, we can go ahead and clone over some Flow templates to get you started.
Here's a video walking through the Flow Templates (subject to change a little as we learn and iterate what is working best!)
Step by step instructions:
Step 1: Invite klaviyoflows@gatsby.ai and jared+flows@gatsby.ai to your Klaviyo account.
Set the Role as Manager.

Step 2: Make sure you've already integrated Gatsby with Klaviyo and successfully completed a test. The test should include:
Add an email/handle to your Gatsby account and confirm the Instagram properties sync to the record in Klaviyo

@Tag your brand in an Instagram Story, using the handle you added above. Confirm the mention is logged in your Gatsby account under Media and the Mentioned You Event fires in Klaviyo

Step 3: Create Coupon Code Set in Gatsby
Navigate to your Email Connected True pre-defined segment:

And then click the Create Shopify Coupons button, top right:

The next screen will allow you to define a coupon code set, and Gatsby will make a unique Shopify coupon code for every person in your segment (today and in the future).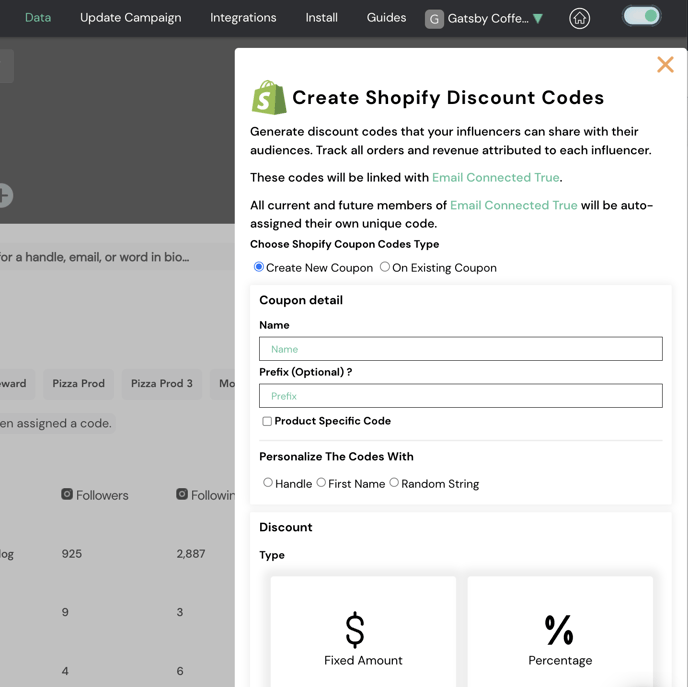 You can create as many coupon code sets as you want, but we suggest starting with the following 3 coupon code sets:
Coupon 1: Immediate Gift - ie: "Get $10 off your next order, get more products to post about"
Coupon 2: To Share With Your Followers - ie: "Give your followers 20% off this weekend"
Coupon 3: Mention Reward - ie: "Get $25 when you mention us on Instagram"

Note: Don't worry, no one will receive their code until you're ready. These codes will be distributed to your customers via Klaviyo Flows, Attentive Journey's etc, and only when you're ready to activate those Flows.
I recorded a short video to show how to set up each of those code sets. Watch it here:

Once you create the coupon codes, you'll see them in Klaviyo (if Klaviyo is connected):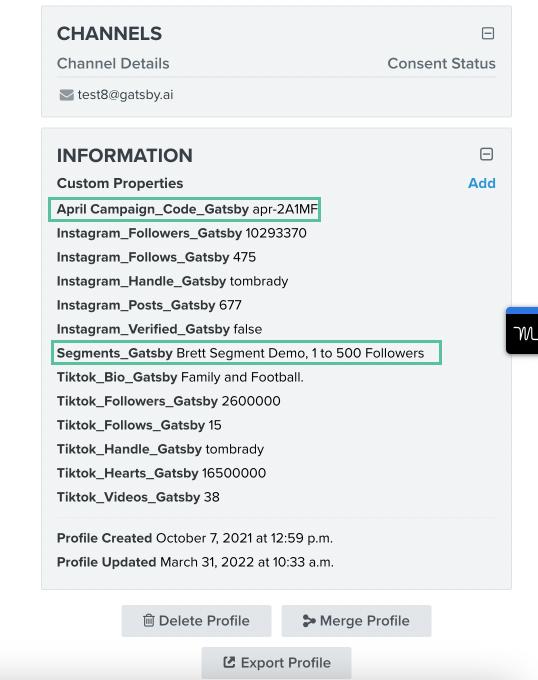 Step 4 Adding these codes to Klaviyo Emails / Flows:
You will now want to distribute these codes to your customer ambassadors via Klaviyo Flows or Attentive Journeys etc.
This is very simple to do in Klaviyo, by using the Profile Property "Add Personalization" dropdown and selecting the code you made (video below):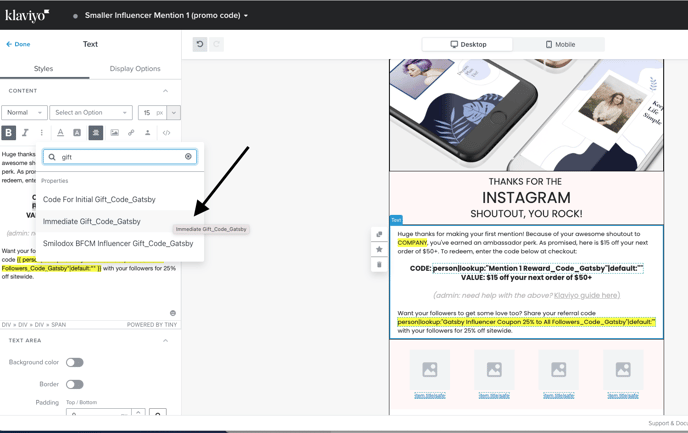 I've recorded a brief video to show you this process live:
Want to see a code in action and the resulting sales tracked? Watch the last minute of this demo video:
That's it! As of Fall 2022, Gatsby will also sync back every tracked order and $ amount to Klaviyo, Attentive, Gorgias etc, so you can trigger affiliate-style flows.
ie: When an ambassador drives 5 orders or $500, send them an email with a code for $100 off, as an example.
To see a complete list of all the events and properties we sync to Klaviyo, review this sheet.
Appendix:
Our current Flow Templates include:

Influencer Outreach Flow: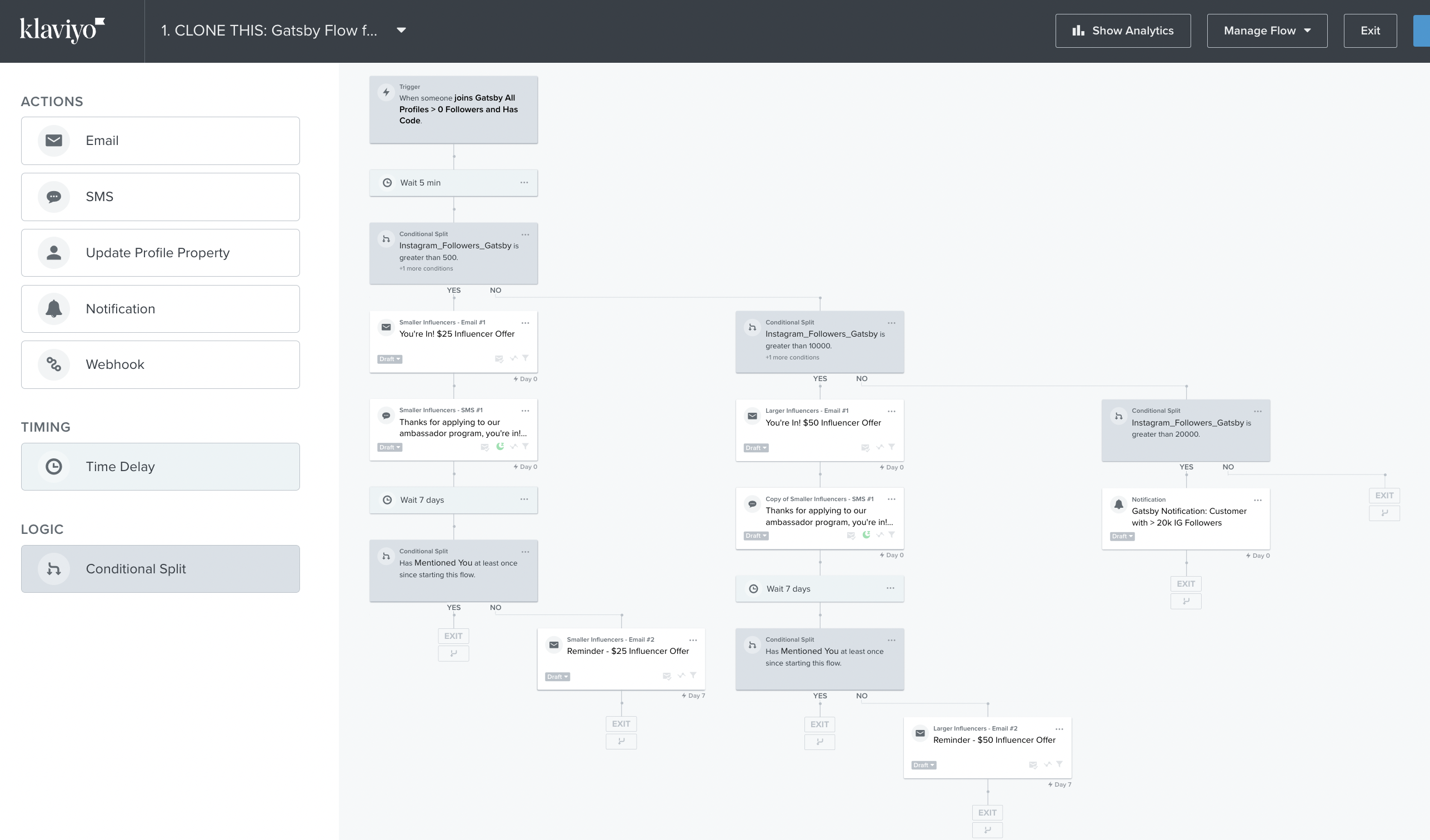 Influencer 1st Mention Flow: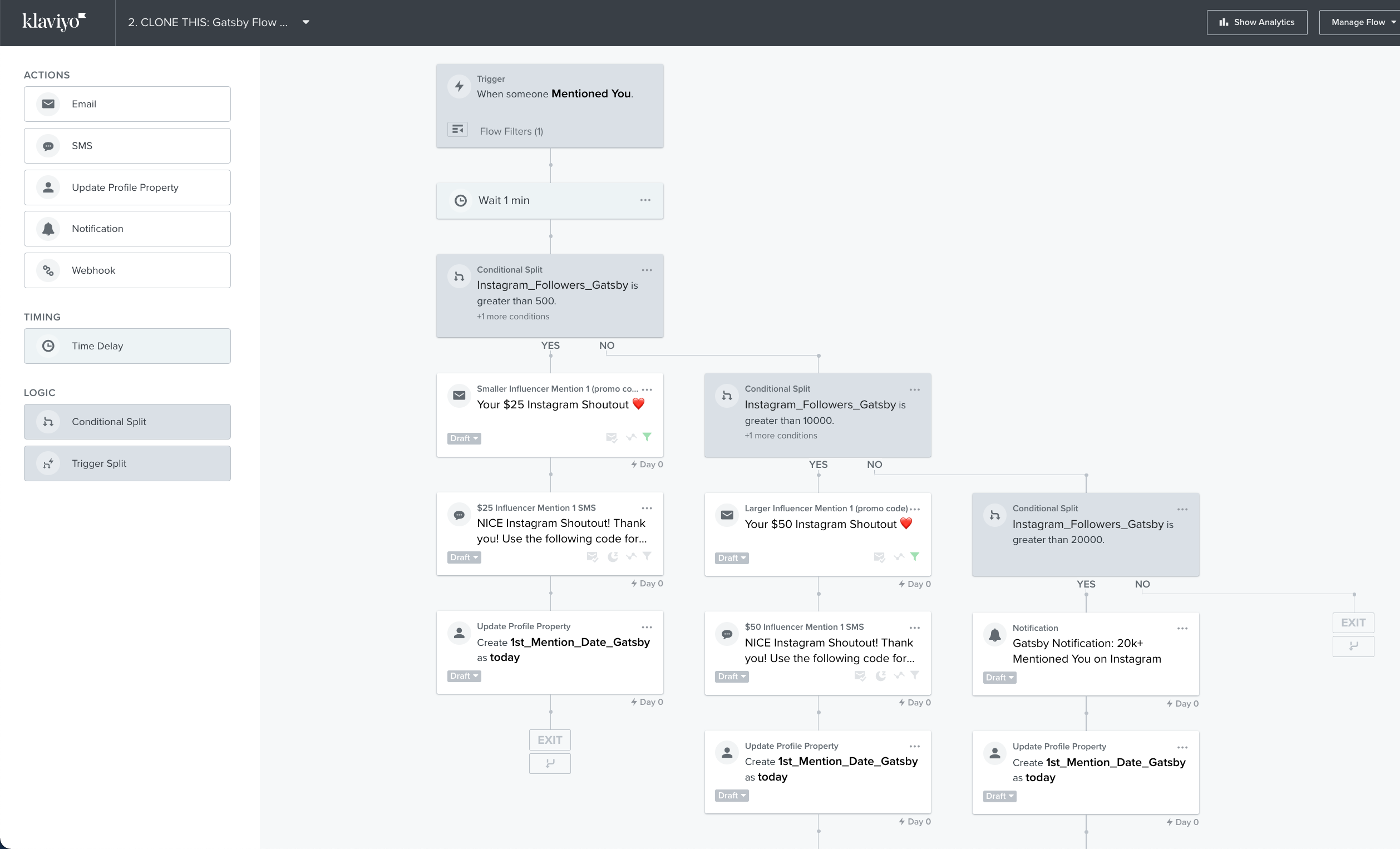 Influencer Ongoing Mentions Flow: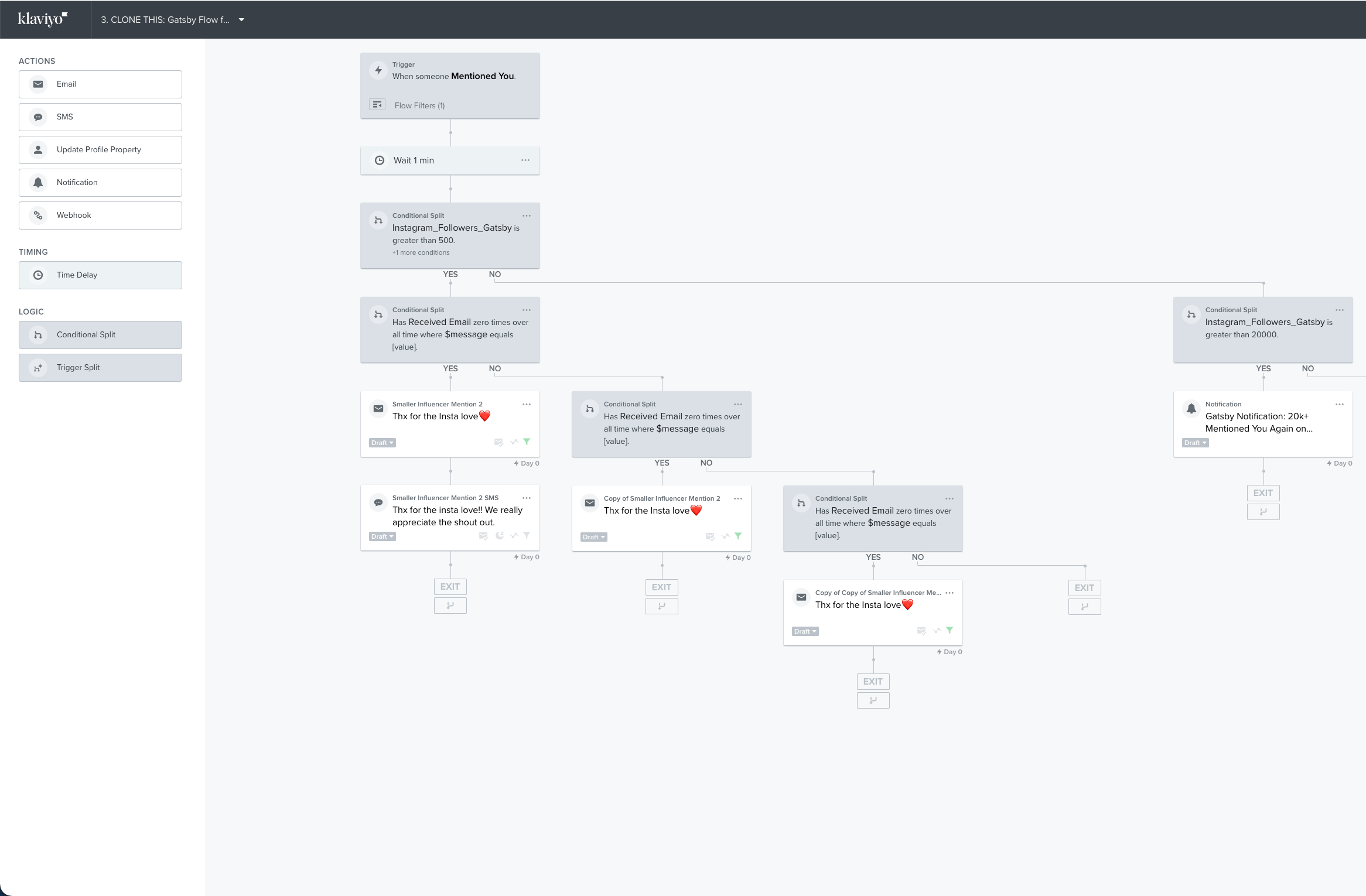 We'll provide you with these templates and then schedule a call with you to make sure you get them up and running with ease.
Thanks, please let us know any questions!