Whether you're using our Klaviyo Flow Templates or building from scratch, get started here.
---
Step 1: Decide if you're going to use Gatsby Templates
If you would like to use our Flow Templates, we need to clone them into your account:
Simply invite jared+flows@gatsby.ai to your Klaviyo account as a 'Manager' and we'll clone them in shortly after.
If you prefer to start from scratch, it's still worth reviewing the items below which covers our recommendations and walks through our Flow templates.
---
Step 2: Decide on Ambassador qualifications & incentives
Answer the following questions in order to map out your program:
Q: How many ambassador tiers do you want to have?
A: We recommend 1 - 3. Our templates are designed for 3 tiers.
Q: What qualifications separate each tier?
A: We recommend using follower count, but you can also layer on geography, order history, loyalty status and more. Engagement rates don't sync to Klaviyo at this time unfortunately.
Q. What are the incentives offered in each tier?
A: We recommend starting simple, 1 mention gets 1 reward. Also flat $-off codes are more successful than % off codes at getting ambassadors to publish content.
Q: Are you going to give ambassadors a referral code to share with their followers? If so, what is that code worth and will you be providing a commission?
A: We recommend yes! It's easy to setup and provide these Shopify codes through Gatsby and track every order they drive. Plus this data syncs with Klaviyo so you can trigger a commission-style flow, ie: give a $50-off code for every $500 in revenue they drive.
Q: Do you want to give ambassadors a discount code upfront for joining your community?
A: We recommend doing this! It's a great way to get them more product to post about. Our template flows don't include this code by default, just so we keep the implementation simper, but talk to us if you want to add this strategy and if you have any questions on it.
Default Tiers in the Templates:
If you're using our Instagram Flow templates, we break the tiers down for you as follows:
Tier 1: 500 - 10,000 Instagram followers
Tier 2: 10,000 - 20,000 Instagram followers
Tier 3: 20,000+ Instagram followers
Under 500 followers: receive a nice rejection email with a basic coupon code as a thanks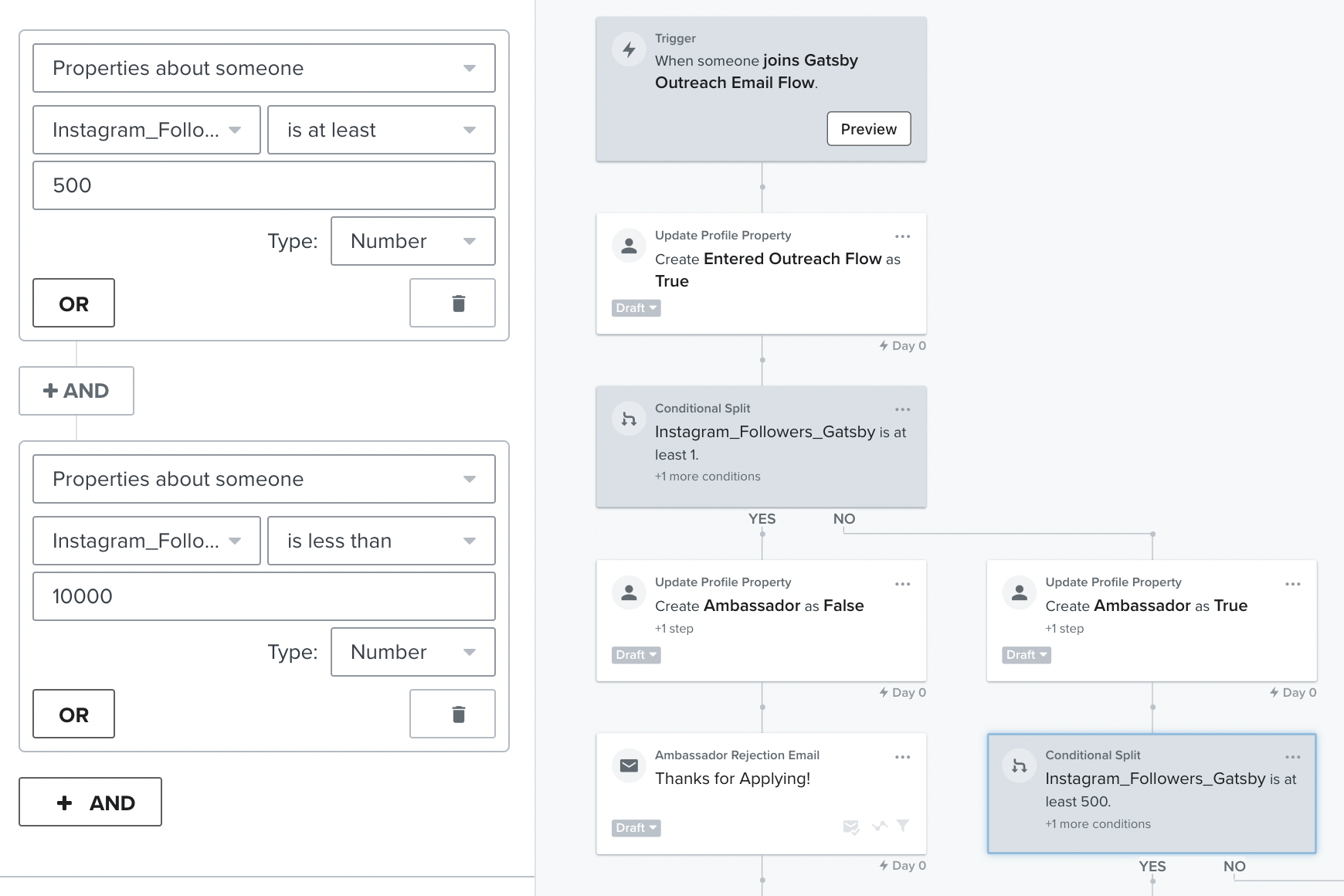 Default Incentives in the Templates:
Since every business is different, with different price points and margins, we use basic language of a $15 off code as the incentive in all the template emails, but you'll want to update these numbers based on what makes sense for you. For example, Tier 3 ambassadors should likely be offered a higher incentive than Tier 1 ambassadors.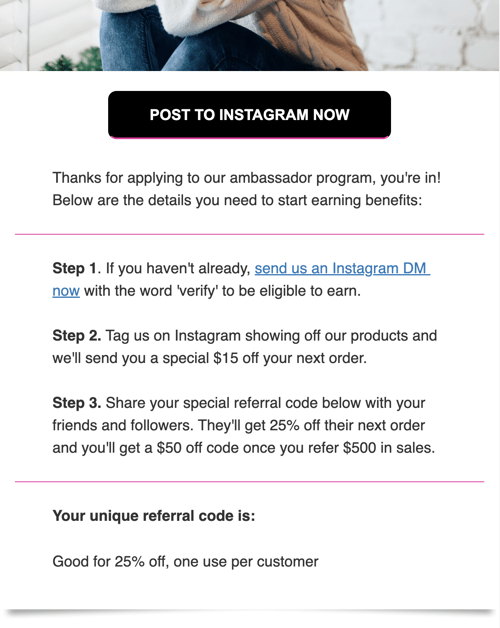 ---
Step 3: Create your Shopify Coupon Codes in Gatsby
1. You'll want to create a segment in Gatsby for each tier and then make a code-set for each segment. The first code-set you're making is the $ off reward for posting on Instagram.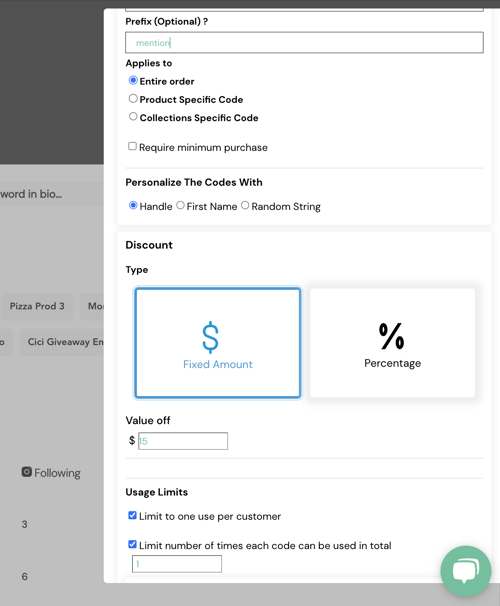 2. If you're offering a referral code, you'll want to make a second code set as well - either in each segment or just broadly for everyone in your Gatsby account.
Note: No codes will be distributed automatically, they will get sent out through Klaviyo Flows. So for example, you're making all the reward codes upfront now, but each ambassador only receives their unique code once they tag you on Instagram.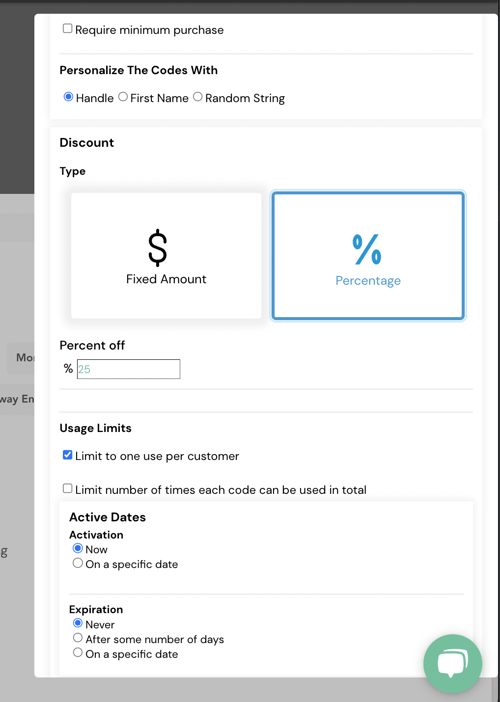 For a complete guide on making Shopify coupon codes in Gatsby, see here.
---
Step 4: Confirm the Template Flow logic and Conditional Splits
We recommend starting simple with two flows:
Flow 1: Offer Flow
Flow 2: Reward Flow
Flow 1: Offer Flow
1. This flow trigger should be "joins a segment". If we cloned our flows over for you, we likely did this step for you.
Note: It's better to use join a segment rather than list, because with a segment you can ensure that all the required items like follower counts and coupon codes have synced over to Klaviyo before the subscriber enters the Flow. Plus you can change Segment logic later to easy update your flow logic, whereas lists are static.
2. If you're doing this on your own, make sure your segment logic is something like this: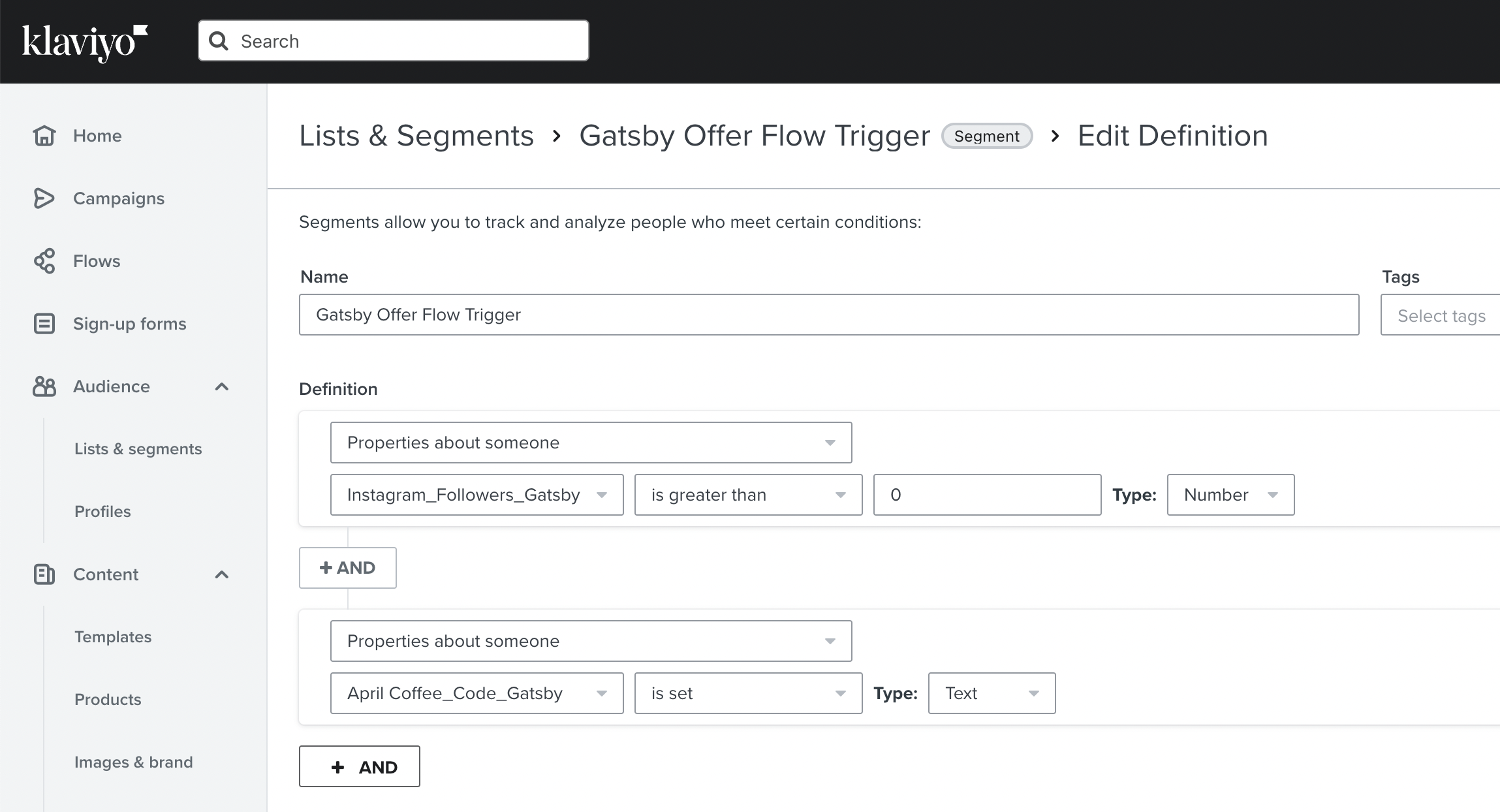 3. Check the Conditional Splits and internal notification steps, make sure all the logic is sound and correct for your use-case.
Flow 2: Reward Flow
1. This flow is triggered by the Mentioned You event.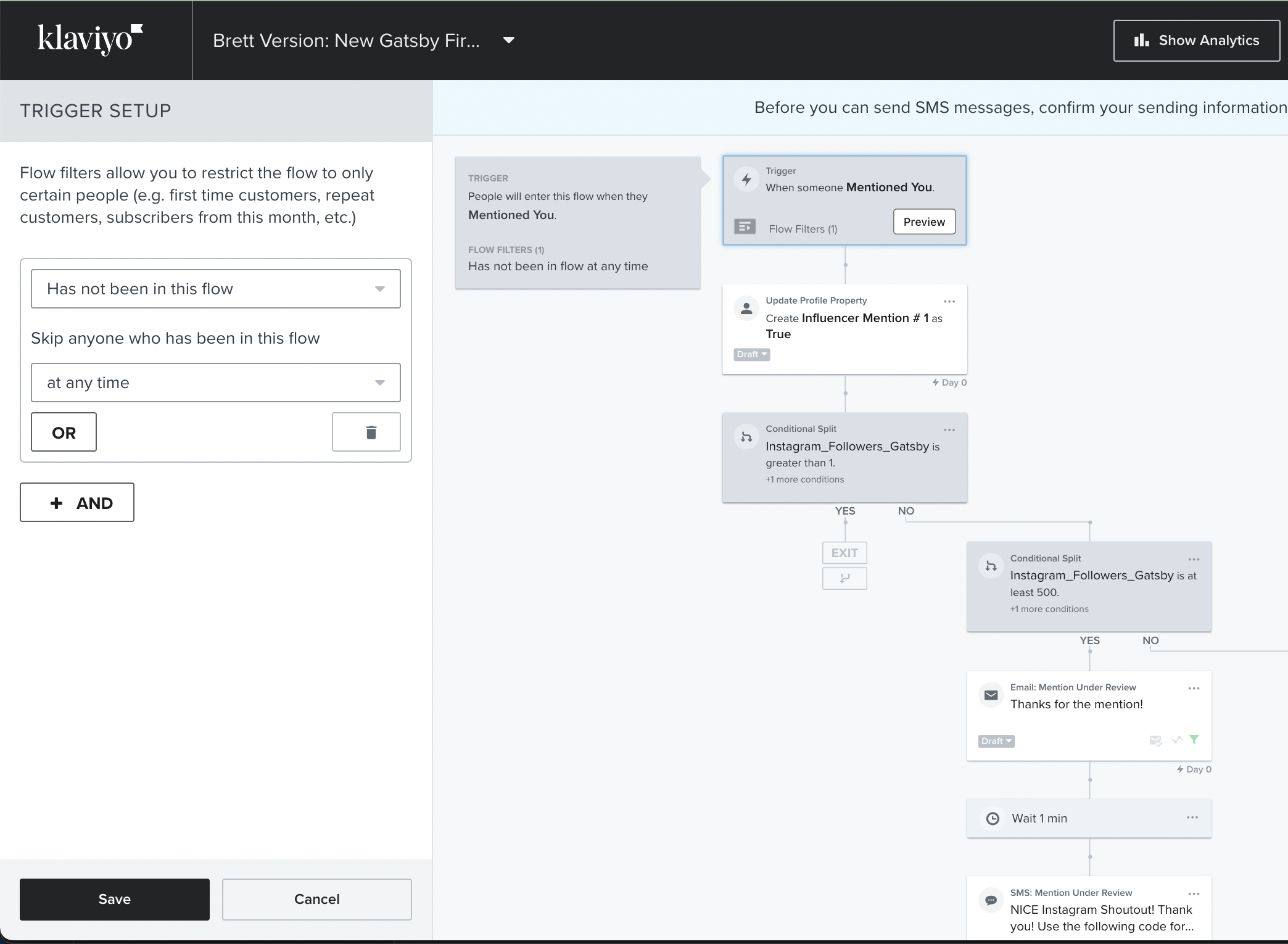 Note: For TikTok flows, the event would be Mentioned_You_TikTok_Gatsby. We recommend doing Instagram via these automated flows and using TikTok more-so for specific one-off campaigns.
2. Check the Conditional Splits and internal notification steps, make sure all the logic is sound and correct for your use-case.
---
Step 5: Update the Email and SMS Content
This is where your team should edit our template emails to infuse your brand voice, images, and incentive specifics. Have fun with this step!
Caution: Don't forget to edit the Coupon Code variables in the email templates. Just like when you personalize {First Name} as a variable in an email, you'll need to select the appropriate {name_code_gatsby} variables that you made in Step 3, overwriting the yellow highlighted examples in the emails, see below: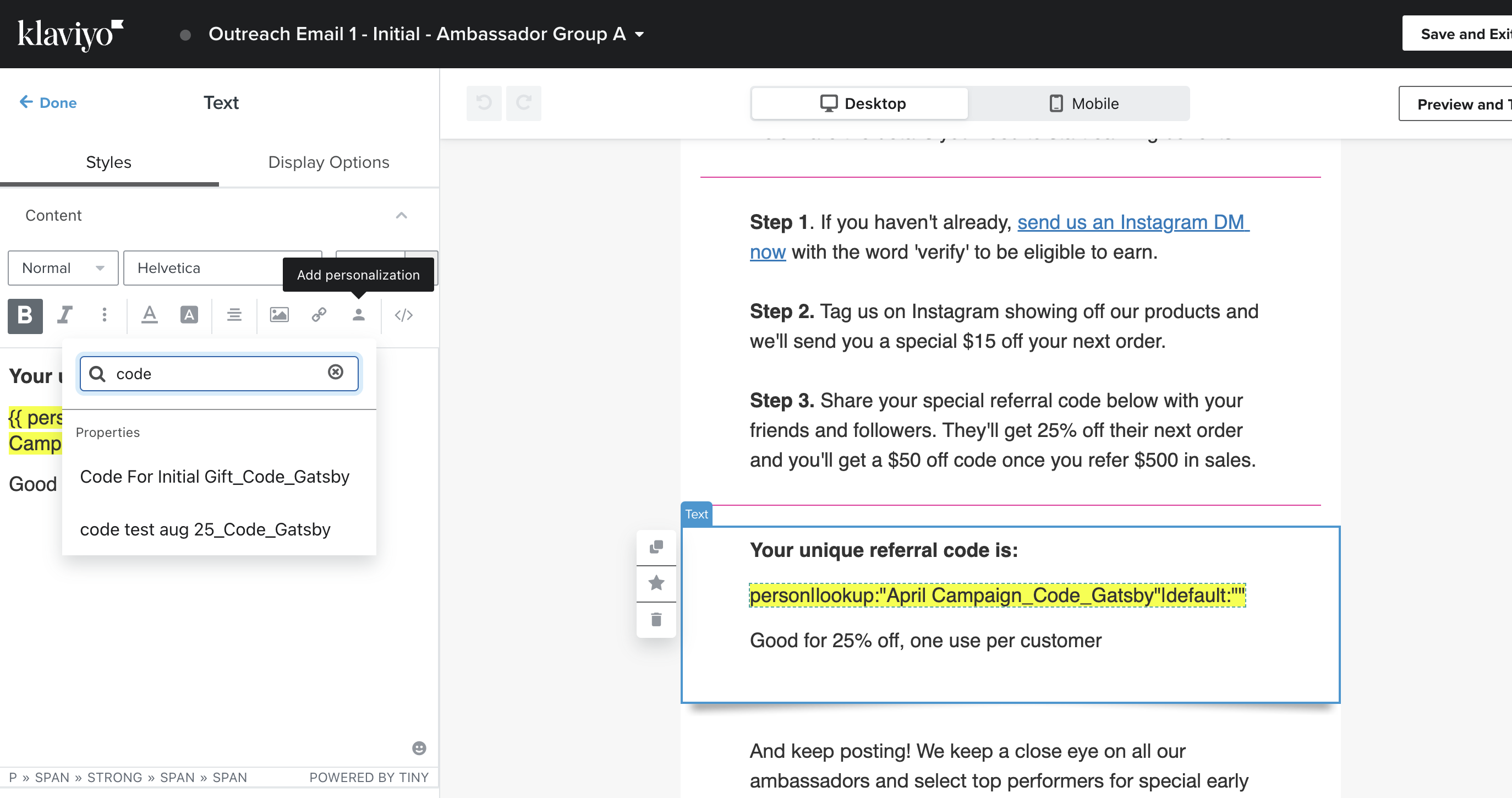 ---
Step 6: Test
If you want to test the flow before setting it live for everyone, you can add a condition to the trigger, so it only fires for your email address. Something like this: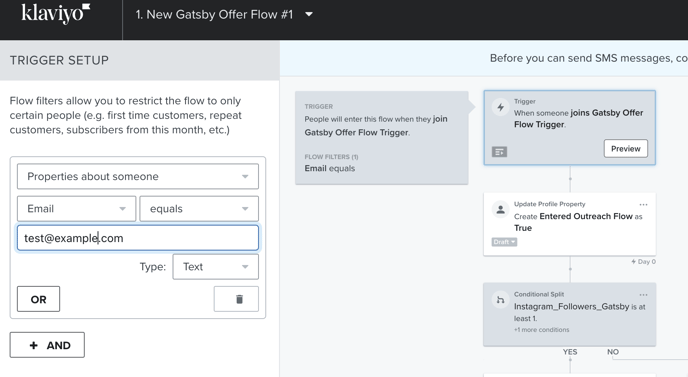 ---
Here's what else you can do with Gatsby + Klaviyo:
Create an Ambassador Signup Page using a standard Klaviyo Form
Segment customers using Instagram and TikTok insights
See a full list of what data will sync to Klaviyo here