Connect Gatsby with Klaviyo Flows Estimated time to completion: 25-30 minutes (but once it's set up, everything runs automatically indefinitely 😄)
This guide comes after you synced your Gatsby insights to Klaviyo
Before you get started, please at least skim this 6 minute tutorial video that walks through the complete process with Klaviyo. We have a template Flow for you to get started with here as well.
Step 1: Confirm you see your Gatsby insights in Klaviyo
Please confirm you are seeing data like the following screenshot in a subscriber's record in your Klaviyo account. If not, please go back to this guide.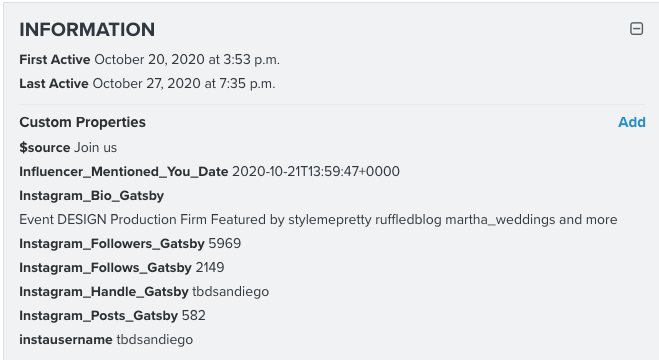 Step 2: Create Influencer Segments
Now to create a segment, click into the Lists & Segments tab >> Choose New Segment and simply choose "Properties About Someone" and "Instagram_Followers_Gatsby". Example below: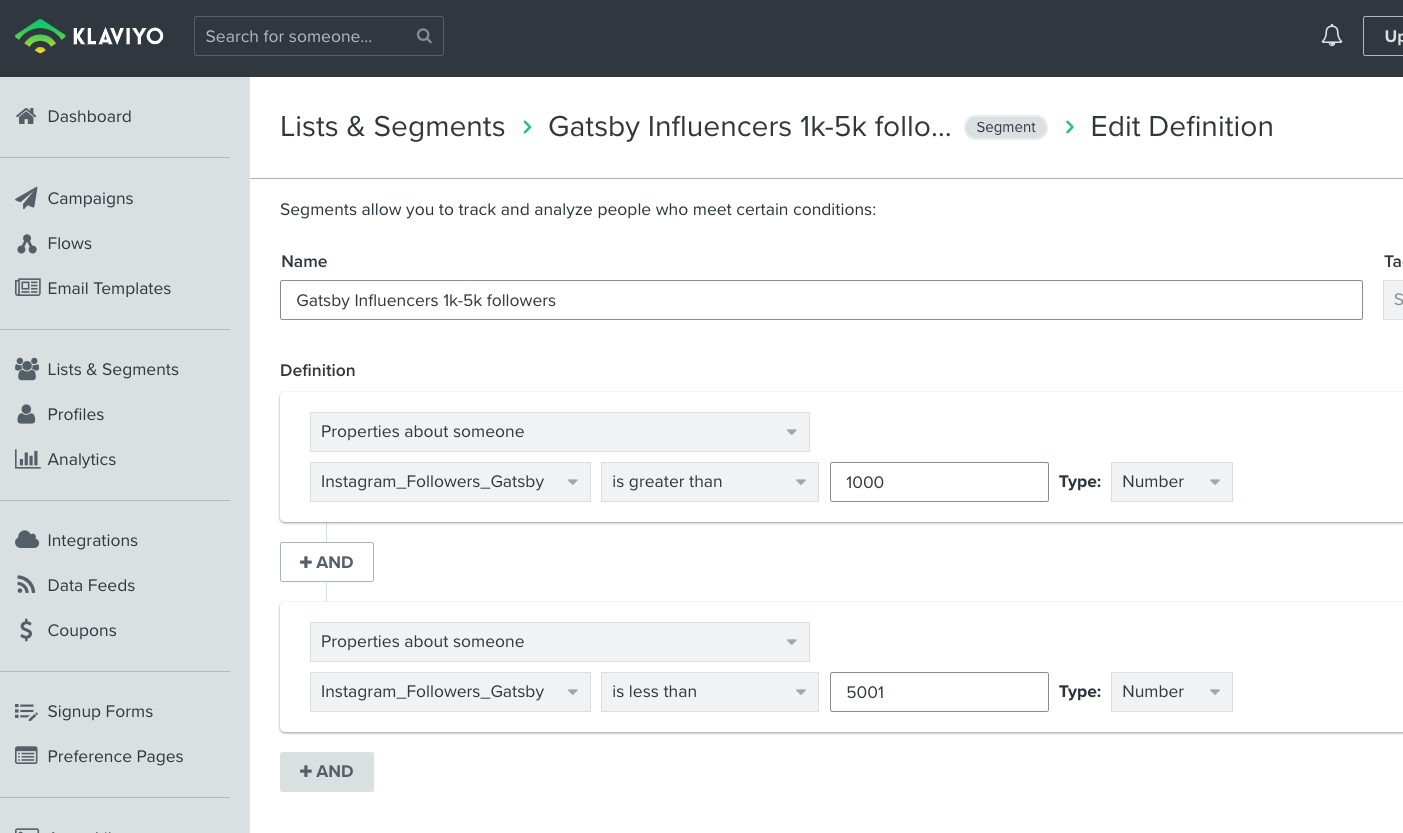 Common segments for micro-influencer marketing are:
Customers with an Instagram audience size of 1,000 to 5,000 followers
Customers with an Instagram audience size of 5,001 to 10,000 followers
Customers with an Instagram audience size of 10,001 to 25,000 followers
Customers with an Instagram audience size of 25,001 to 50,000 followers
Note: in the tutorial video above I showed an alternative option of creating the segments directly in the Flows settings. Either way works, just your preference. If you're unsure, follow this guide to a tee.
Step 3: Create Dynamic Coupon Codes For Your Shopify Store
Decide what you want to offer your micro-influencer customers as a reward for sharing your brand with their network. The simplest way to start is:
Audience size of 1,000 to 5,000 followers can get $10 off next purchase
Audience size of 5,001 to 10,000 followers can get $15 off next purchase
Audience size of 10,001 to 25,000 followers can get $20 off next purchase
Audience size of 25,001 to 50,000 followers can get $100 off next purchase
But of course these numbers are very relative to your store. If you sell higher or lower priced goods you will want to pick discount amounts that match your margins and will motivate your client to act.
$ amounts tend to perform better than % for this use-case. Free items work really well too!
The key here is to offer a special and specific item, reward, or discount to your micro-influencer customers. The code you generate will be unique to each micro-influencer and good for just a single-use, so it is not a code they should be sharing with their followers. Rather it's a code that is used to motivate your influential customer to share, a token of your appreciation for them sharing, and a way to get them back to your store for a follow-on purchase.
Please follow this guide on Klaviyo for creating your dynamic coupon codes: https://help.klaviyo.com/hc/en-us/articles/115006155388-Dynamic-Coupons-for-Shopify#create-your-coupon-code-in-klaviyo1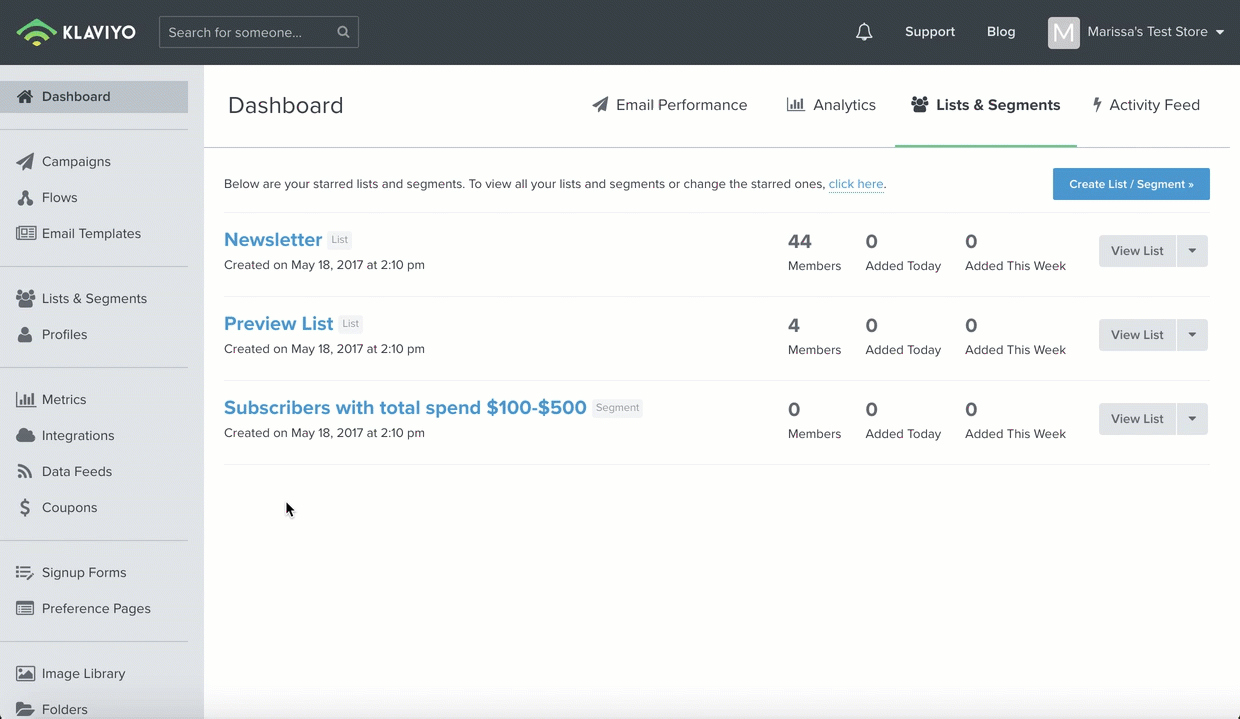 Your influencer coupon codes may look something like this:

Step 4: Create a Klaviyo Flow To Automate Outreach To Your Micro-Influencers
Start by setting up a new flow: https://help.klaviyo.com/hc/en-us/articles/115002774932-Getting-Started-with-Flows#create-a-new-flow5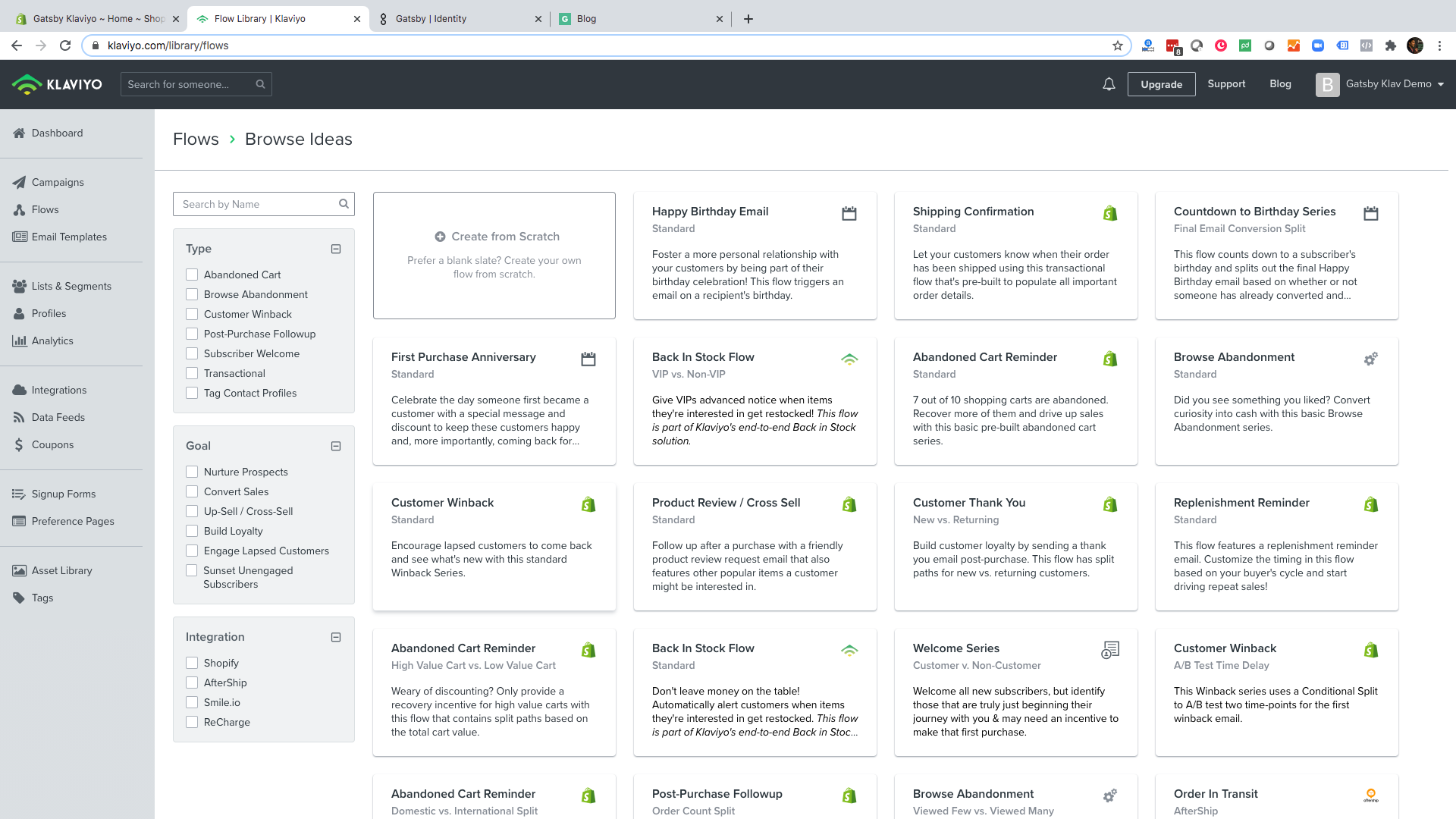 Name your flow "Influencer Invite" or if you're going to be setting up multiple flows based on different follower ranges then something like "Influencer Invite 10k - 25k Followers":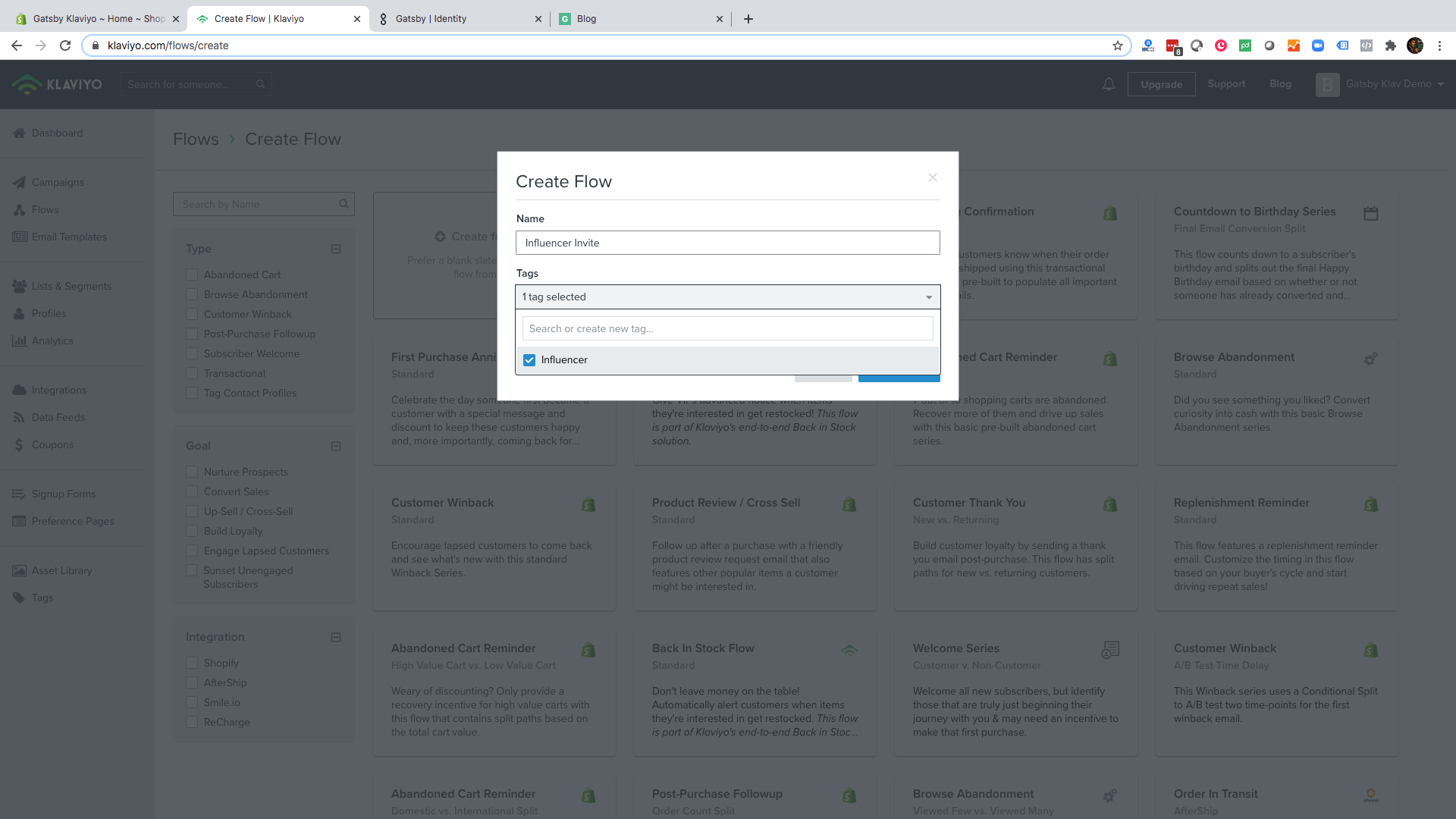 Choose "Segment" as your Trigger: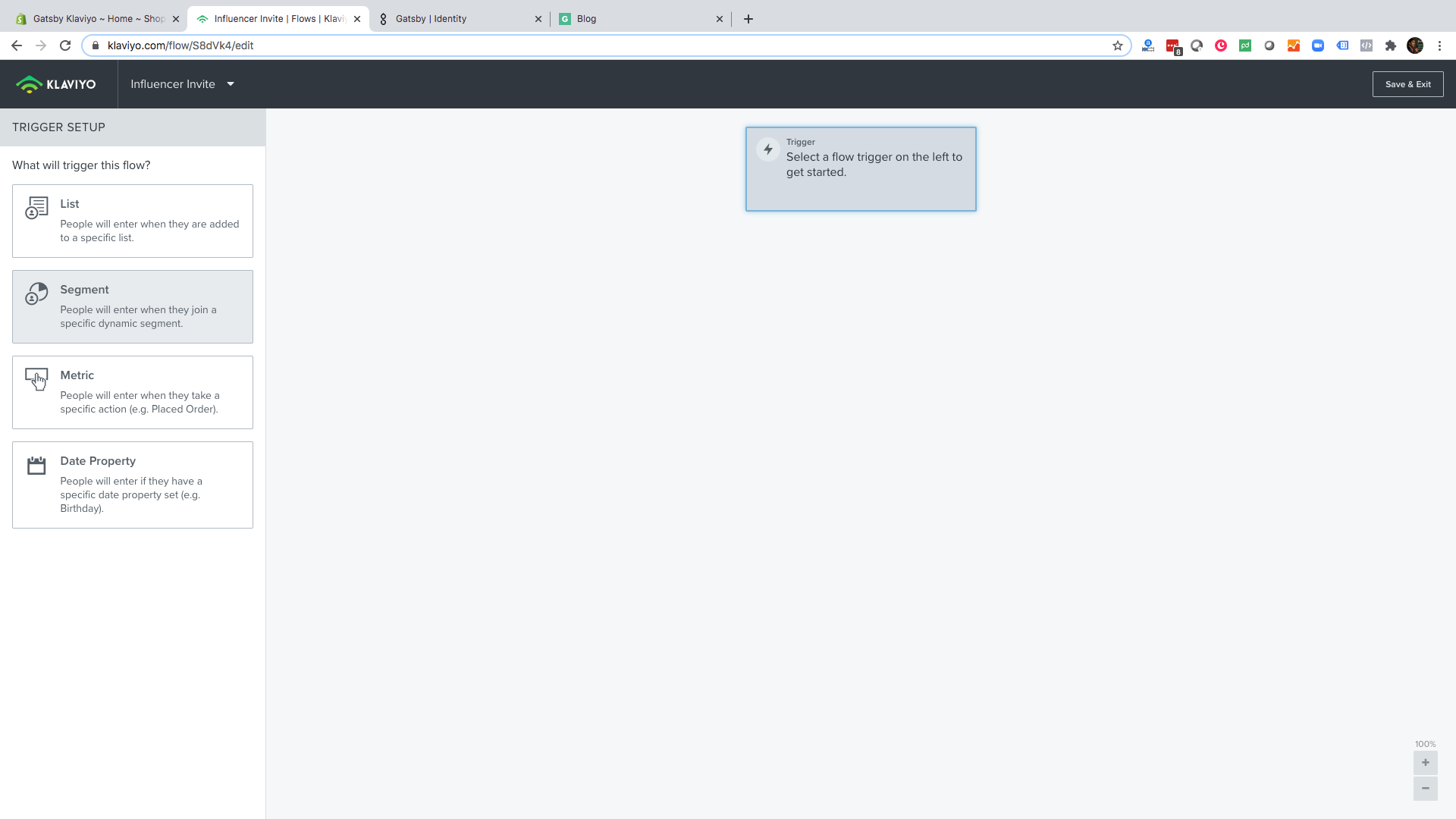 Select one of the segments you created in Step 1: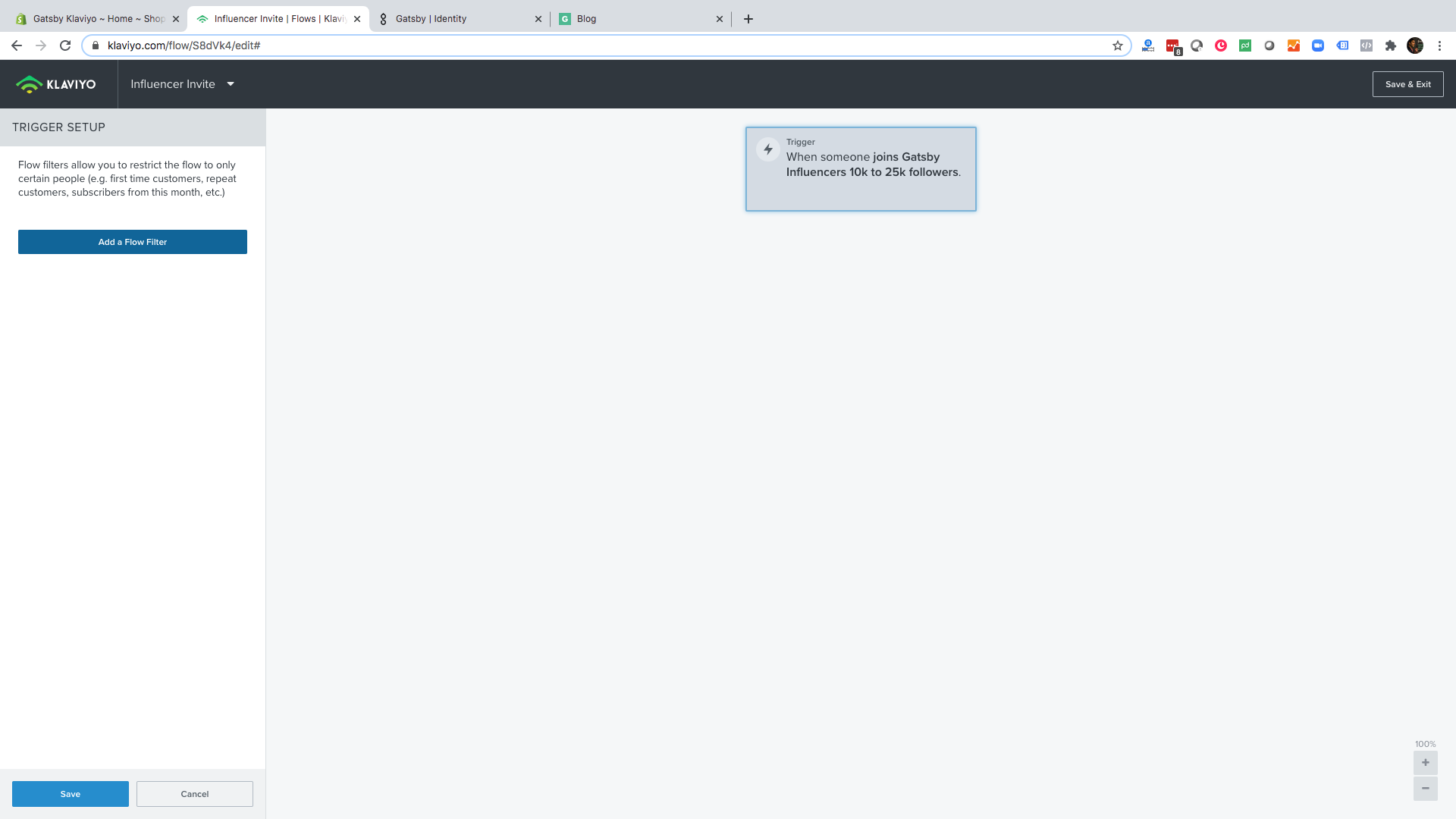 Drag an email action over to the Flow: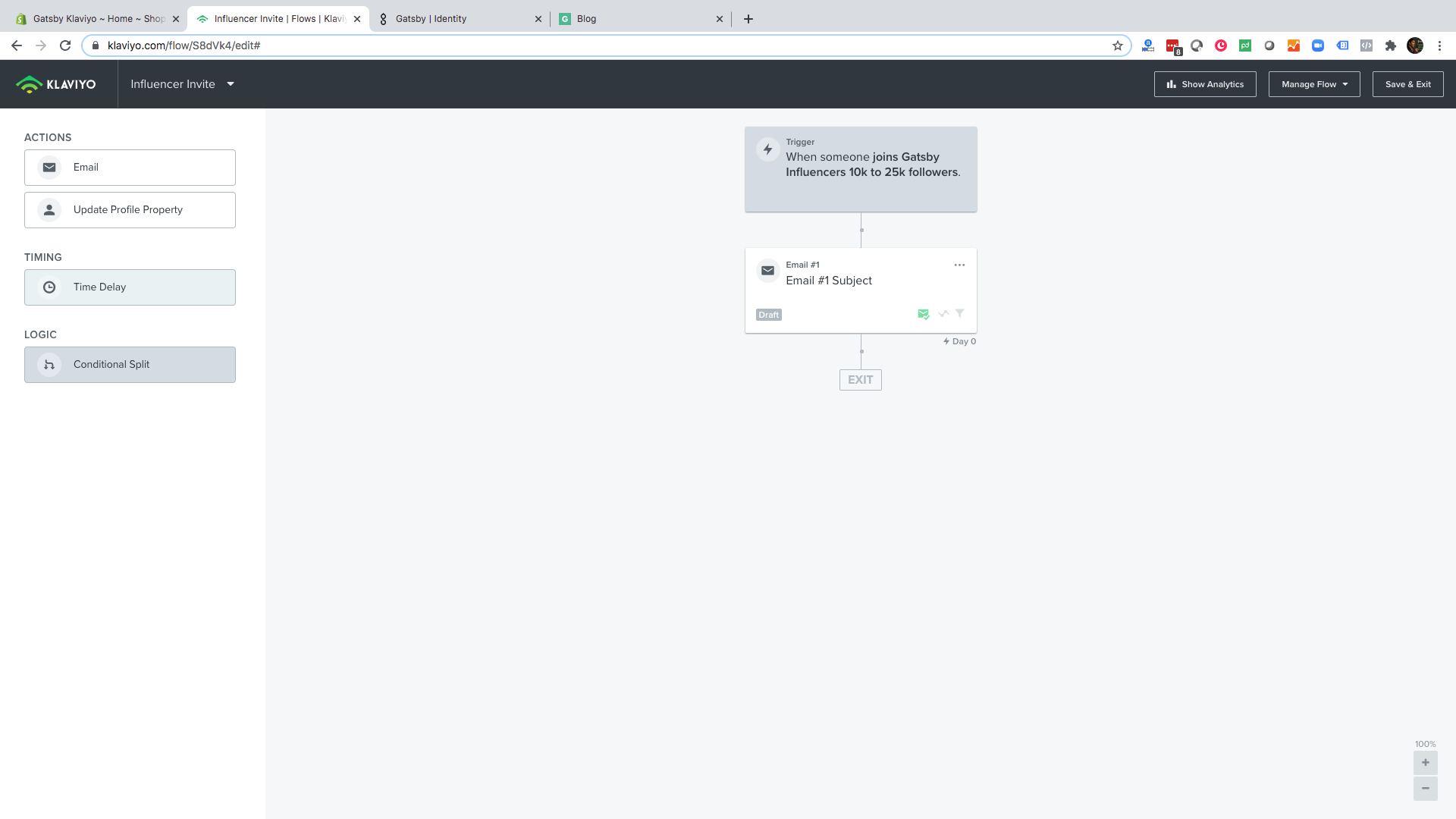 Draft your email template. Keep it short, sweet, and authentic.
Remember the recipients are not professional celebrity influencers. They're your real customers who have a real and active Instagram presence. They chose to opt in and give your their Instagram Username in your Klaviyo popup. An example email:
Hi [First Name}, thanks for entering your Instagram the other day when you signed up. It looks great! Are you up for a quick collab?
We would be happy to send you XX if you share your love for [our brand] on Instagram. Just be sure to specifically tag @[ourhandle] in the picture and mention @[ourhandle] in the caption so we can send you the reward.
Thanks!
[your name]
Note: you also can choose to give a unique promo code in this email, as something the influencer can share with their followers! (more on adding unique promo codes to follows in Step 5)
Step 5: Create the Klaviyo Flow To Automate The Reward After They Mention You On Instagram
Create a second Klaviyo Flow, this time using Metric as the trigger:
After selecting Metric, scroll down and select the action of "Mentioned You"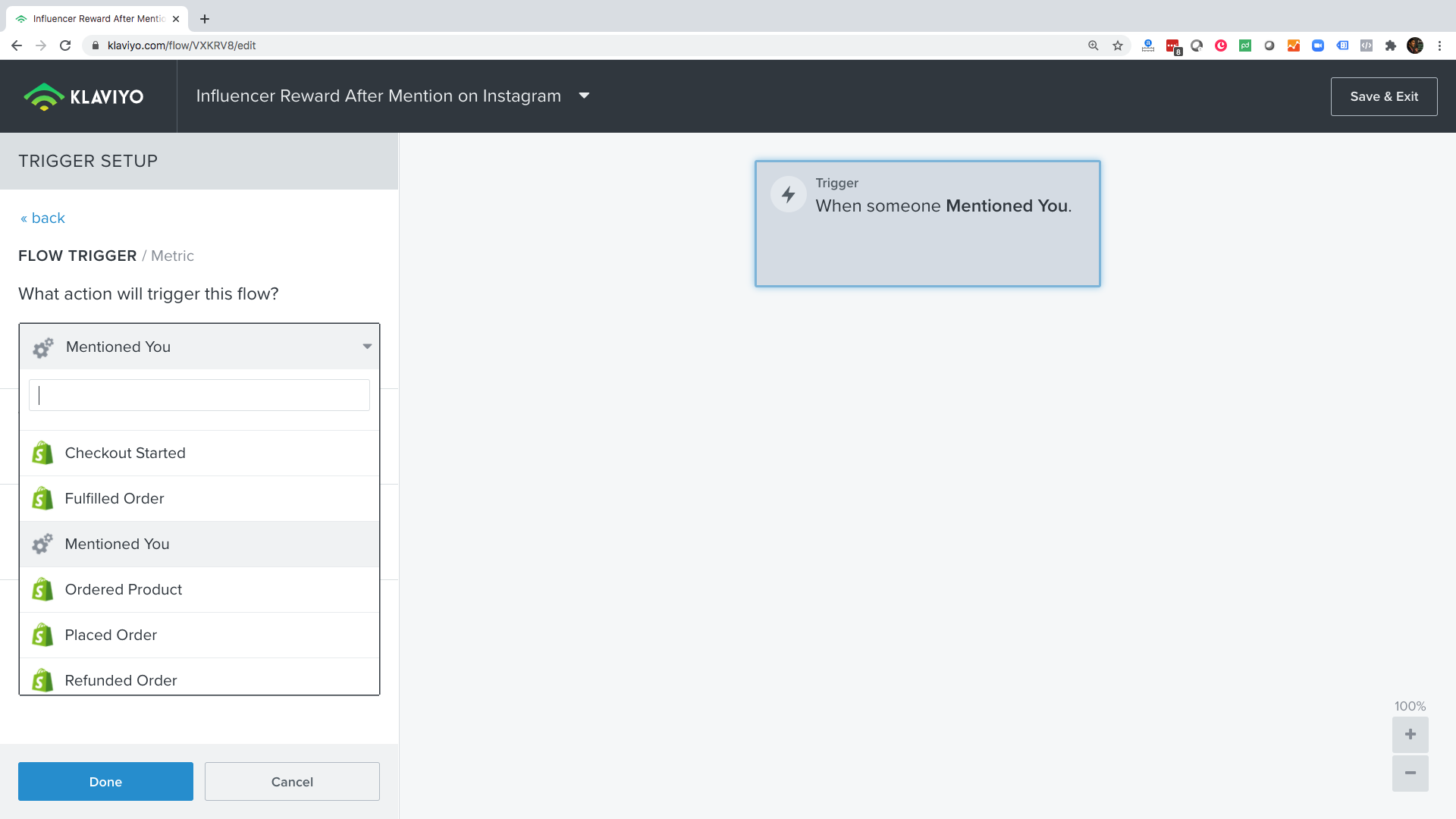 (If you don't see Mentioned You from the list, please confirm you ran Test 2 at the bottom in the previous guide.
Next drag over "Email" under Actions: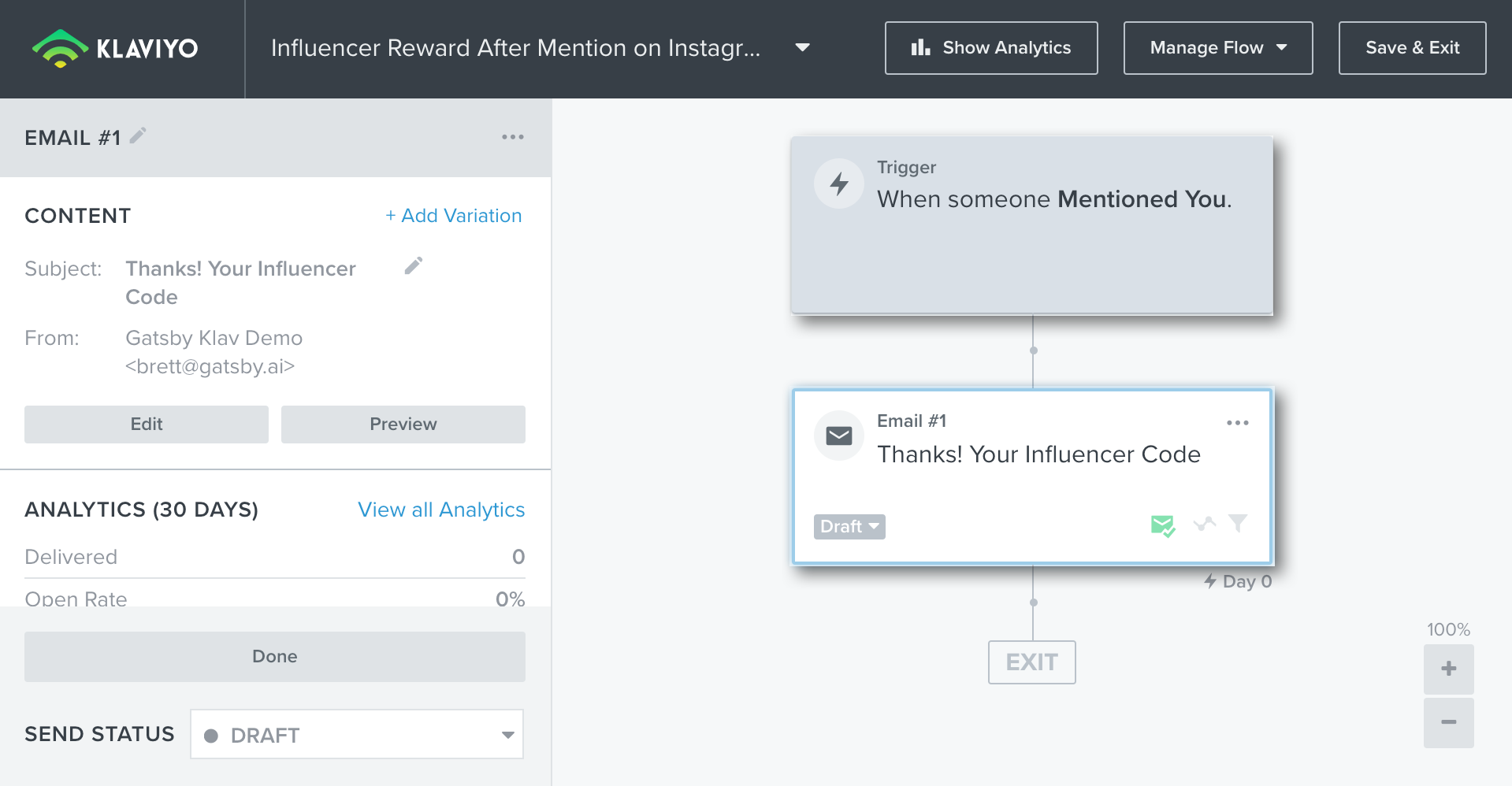 Draft the email you want to auto-send to your customers when they mention you on Instagram.
We suggest including the dynamic Promo Code you created above in Step 2.
Add your Dynamic Promo Code
Copy / Paste the following tag into your template so your influencer receives their unique promo code in the email:
For example:
For more on adding this tag, see here: https://help.klaviyo.com/hc/en-us/articles/115006155388-Dynamic-Coupons-for-Shopify#use-your-coupon-in-an-email-campaign3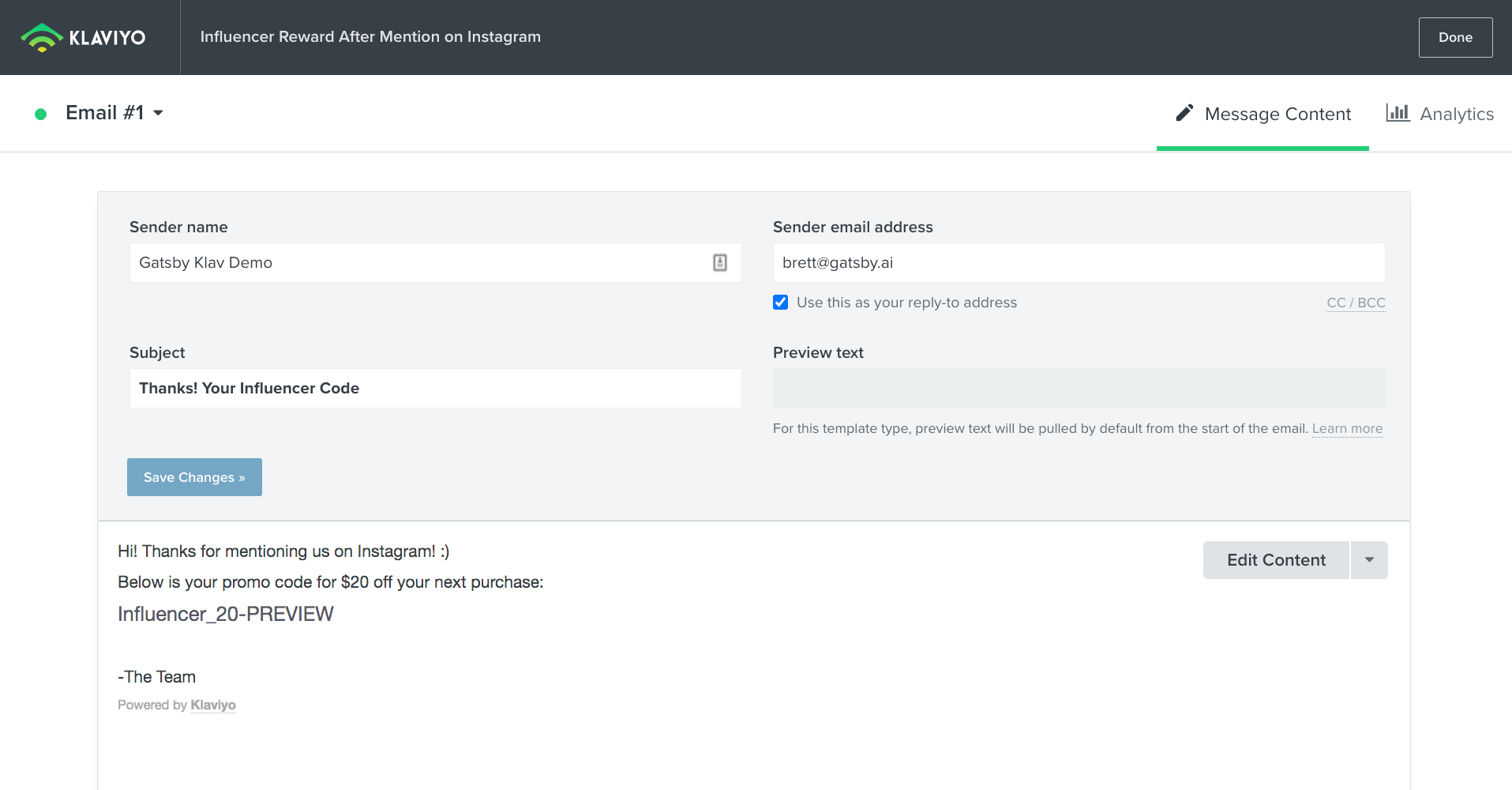 Preview the email template before it sends.
When you're happy with how everything looks, set the Flow and Email Action to Live: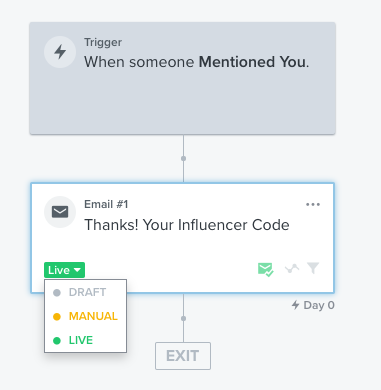 Now every time an influencer tags or mentions you on Instagram, they will automatically receive their unique promo code / reward.
Example:

Step 6: Measure Your Engagement, Reach & Growth in Gatsby
Log back into your Gatsby account anytime to measure the performance of your micro-influencers.
Below is a 3 minute video that shows you all the data you can analyze in Gatsby:
https://www.gatsby.ai/product#demo-video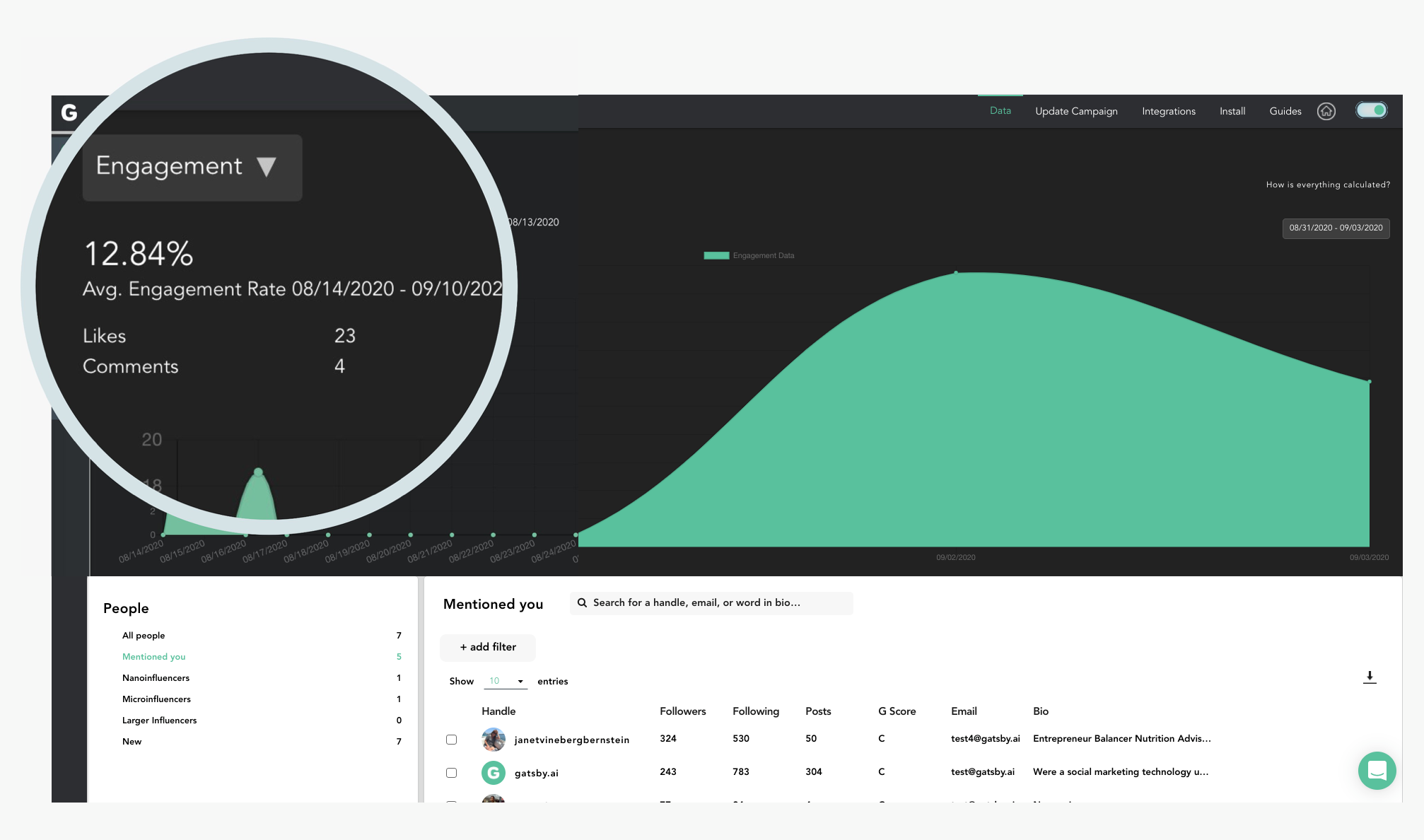 With our new analytics, you'll be able to:
Measure engagement, reach and more of all your micro-influencer posts. Really see how they are generating brand awareness & media value for you.

Filter your customers by those who have tagged or mentioned your brand, and who hasn't yet

Use a new proprietary influencer score to go beyond follower size

Track the growth of your Instagram Business Profile
And more!
Congrats!
You have now set up a completely automated workflow to source authentic micro-influencers, engage with them on a collaboration, and measure their results.
Gatsby and Klaviyo continue to invest in our partnership with to help you discover and engage micro-influencers and grow your business. Please let us know if you have any questions or requests.