Advanced Instagram Story Tracking with your Professional Influencers *Advanced feature* To save Story Content and get deeper story analytics from your professional influencers, follow these steps.
The following is a more advanced version of our standard story tracking. The following is not designed for all people in your account, but rather just for your professional influencers who have an official "Creator" Instagram account and are willing to take a few extra steps to collaborate.
The benefit is that you'll be able to save their Story content and get Story analytics.
However, if you're looking to track when anyone in your Gatsby account mentions you in an Instagram Story (99% of use-cases), leave this guide and head here.
If you're looking for the advanced story tracking, see below:
Due to the way the Instagram API works though, there are a few caveats and best practices to know before you get started:
1. Does the influencer need to have a Creator account on Instagram?
Yes, in order for you to be able save your influencer story content and get the analytics like # of views, taps back etc, your influencers will need to be set as a Creator account type on Instagram.
The Creator account also needs to be connected to a Facebook page.
Luckily, most professional influencers will already have this set up, and for any that do not, Facebook has made this very easy to do. It's 100% free and only takes a few minutes. Below are the instructions to send to your influencers:
Step 1: Convert Personal IG to Creator (if the influencer isn't Creator already)
To convert a personal Instagram account to a creator account only takes a few minutes.
(2-5 mins)
Step 2: Connect Creator Account to Facebook Page (or create new Page)
To connect that Creator account to a Facebook page is also a requirement by Facebook, but it only takes about 3 clicks now:
Read: How to connect Creator Account to A Facebook Page (and Create A Page Automatically if needed)
(1-3 mins)
2. Does the influencer need to be in my Gatsby account?
Yes, Gatsby will only be able to report on media that mentions if you have that influencer listed under the All People tab of your Gatsby Dashboard. You can always import a new influencer to your Gatsby account following this guide.
Now that you know the requirements for an influencer to connect, let's start tracking their Stories.
3. How to Enable Instagram Stories Tracking on Gatsby
Your Gatsby account is already set up to track Instagram Stories stories right now, however your influencers will need to give permission in order for you to track their Stories. Luckily it's easy and only takes 30 seconds.
Step 1: Direct your influencers to this page:
https://gatsby.run/authenticate
Step 2: Ask them to click the Continue With Facebook button and run through the steps.
Step 3: Gatsby will now have advanced story tracking turned on for that influencer for the next 60 days. If you will be collaborating with them for longer than 60 days, let us know and we can extend their advanced story tracking.
You can send this 1 minute video to your influencers for support:
4. Best Practices To Ensure Good Tracking
For this advanced story tracking, it's important that the influencer makes your @mention clear and easy to read. We recommend the following:
Use the Aa option to @mention the brand, do not use the mention sticker. The sticker is a different 'all-caps' font and can sometimes harder to read.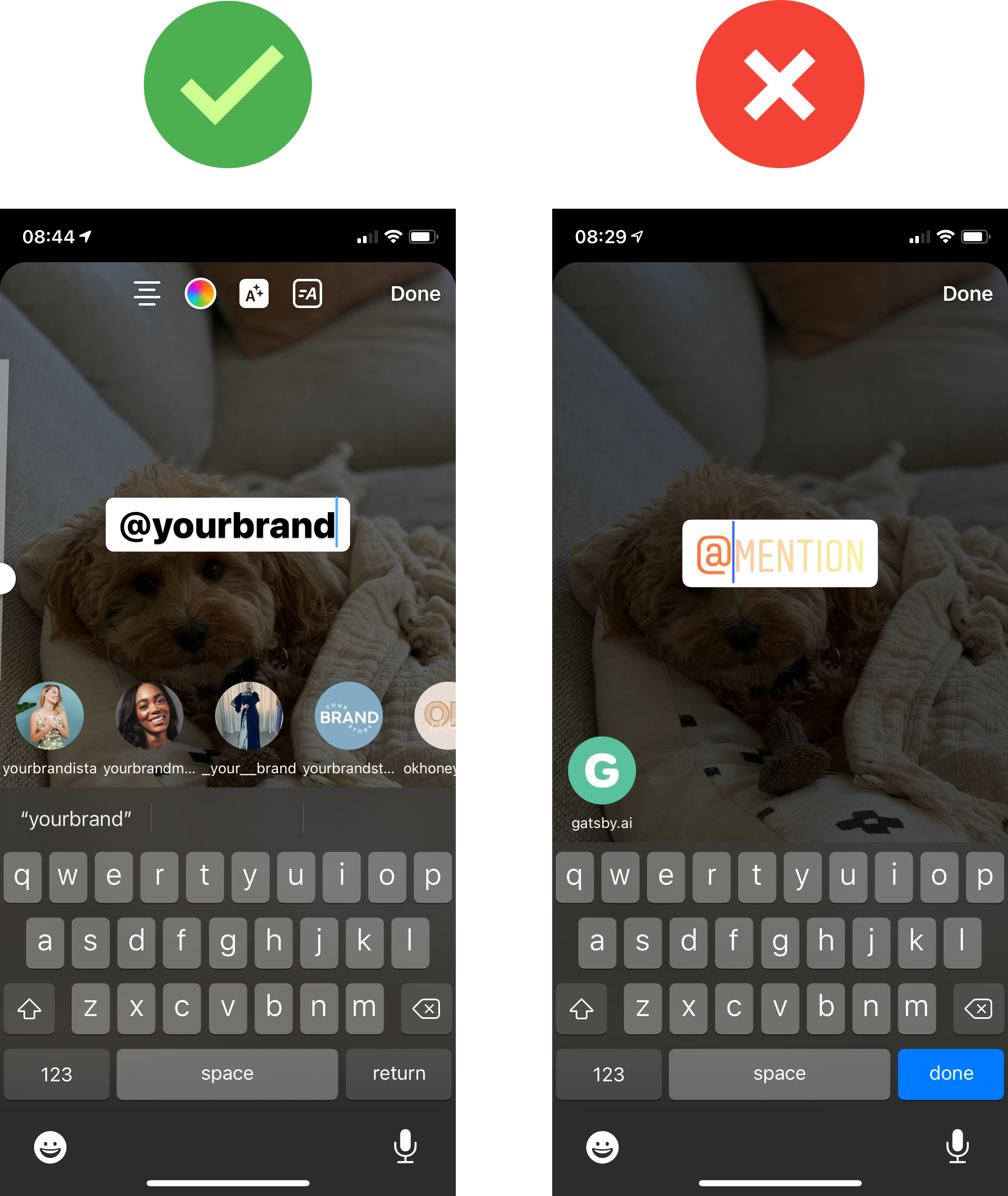 Give the @mention a contrasting background color. For example, black text on a white background.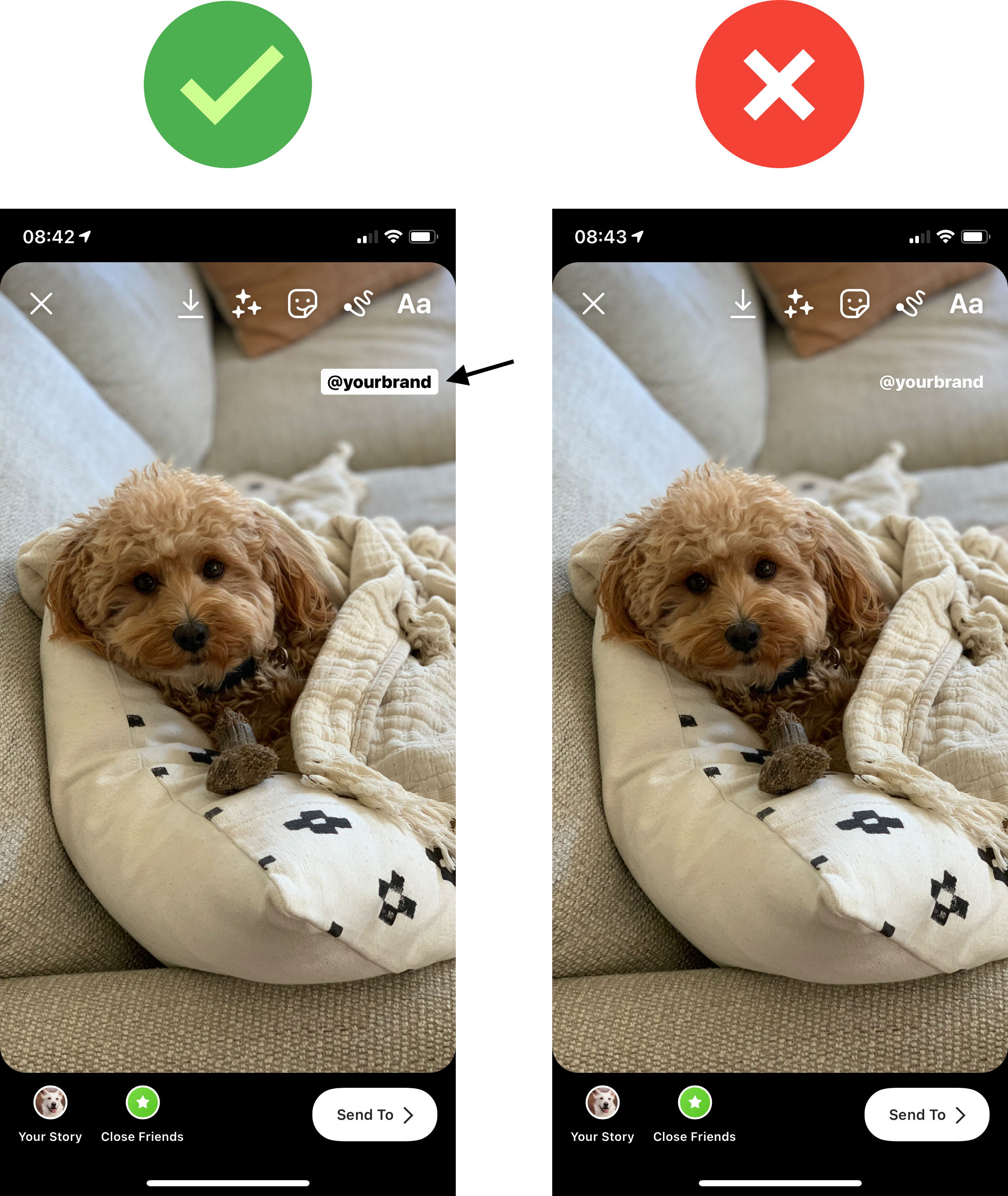 If you're publishing a video on your Instagram Story, and using pins (advanced), be sure to pin the mention at the very beginning. Most people won't need to worry about this.
That's it. Let us know if you have any questions!